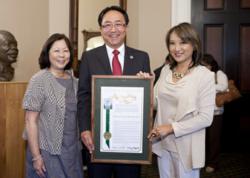 Sacramento, CA (PRWEB) October 12, 2012
Assemblywoman Mary Hayashi (D-Hayward) congratulated Dr. Leroy Morishita on his investiture as the fifth President of California State University, East Bay. The university held the official ceremony today, recognizing Dr. Morishitas leadership and longtime commitment to public education.
Dr. Leroy Morishita has worked diligently to ensure California students have the opportunity to reach for and achieve their dreams, stated Assemblywoman Mary Hayashi. Over his 30-year career, he has been dedicated to advancing higher education and serving the community, never forgetting the lessons he learned early on about the importance of access to education and of supporting the aspirations of young people.
Dr. Leroy Morishita served as interim president of CSU East Bay for six months, and was appointed as President in January 2012.
Dr. Morishitas work has spanned diverse areas from counseling, computer sciences and research, to budget planning and finance. He has been involved with his local communities, serving as a trustee of the Institute of Buddhist Studies in Berkeley, and was a former board member for the Japanese Cultural and Community Center for Northern California and Oaklands Asian Community Mental Health Services.
Dr. Morishita grew up in the Central Valley in a farming family, where his parents encouraged him to be anything he wanted to be. He earned a psychology degree and a masters in counseling, and found his passion in working with underserved middle and high school students to get them into college. This led Dr. Morishita to counseling work at San Francisco State University and then his doctoral work at the Harvard Graduate School of Education.
His natural skill with budgets, planning and enrollment projections brought him through the administration ranks at San Francisco State University and at CSU East Bay, where he eventually became chief financial officer and executive vice president for administration and finance, respectively.
Assemblywoman Mary Hayashi serves the 18th Assembly District, which includes San Leandro, Hayward, Dublin, most of Castro Valley and Pleasanton, and a portion of Oakland, as well as the unincorporated areas of Ashland, Cherryland, San Lorenzo and Sunol.