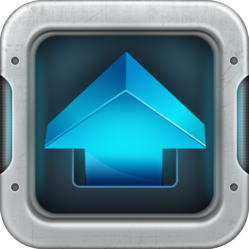 Dhahran, Saudi Arabia (PRWEB) August 15, 2012
Local Aliens LLC, a leader in unique and innovative casual gaming apps, is excited to announce the release of its new and highly addictive Arrows puzzle game to the iTunes App Store. Arrows is the second mobile release from Local Aliens, following its successful iPad board game, Fluke HD. Compatible with both iPhone and iPad, Arrows is a visually-striking puzzle game that is based on a simple concept, but presents a cutting-edge style of challenging and engaging gameplay that has yet to be seen in the puzzle game genre. Arrows is easy to play, but difficult to master.
The goal in Arrows is to fill orbs in each level with sideways moving arrows, avoiding obstacles along the way. With over 80 carefully designed futuristic levels that get increasingly challenging, Arrows keeps its users' minds fully engaged. High quality graphics make up the unique game elements that are presented in each level in dynamic and vivid color.
Because racking up high scores unlocks challenging bonus levels, exciting new levels are always available. Users are able to compete with friends for high scores in the Game Center leaderboards as well as unlock achievements throughout the game. Arrows features 4 sets of mind-stimulating levels. The first pack is provided with the initial download of the app at no cost, and it is $ 0.99 to unlock the remaining 3 packs. Arrows can be found here on the iTunes App Store.
This will be the most impressive puzzle game to hit the app market in a long time, said Bandar A. Almashari, co-founder of Local Aliens LLC. The mix of its simple, but challenging gameplay and breakthrough visual-appeal will make Arrows an app that people will be immediately drawn to and captivated by.
Features include:
**Highly captivating graphics

**Specially integrated music to compliment gameplay

**80+ carefully designed futuristic levels

**Bonus levels unlocked by high scores

**Game Center leaderboards

**Unlockable achievements
For more information on Arrows puzzle game, please visit http://www.local-aliens.com/arrows-puzzle-game or contact info(at)local-aliens(dot)com
About Local Aliens LLC:
Located in Dhahran, Saudi Arabia, Local Aliens LLC is leading the way into the next generation of casual gaming by providing unique, fundamentally innovative concepts. Co-founded by Sultan S. Alsharif and Bandar A. Almashari, Local Aliens LLC creates the very best game development studio in the market today.
With an initial focus concentrating on mobile games, they are geared to deliver high quality, original gaming products that feature some of the finest gaming experiences available. With diligence, determination and integrity, Local Aliens LLC promises to deliver the best, brightest and most cutting