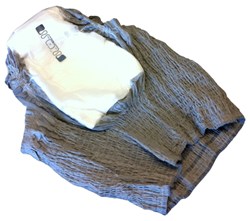 Neenah, Wis. (PRWEB) October 03, 2012
Sensor technology has been applied to the incontinence products category to create the SmartBrief, an intelligent adult brief, says Lynn Wilson, Founder of The CareGiver Partnership, a national retailer of incontinence products. It uses a patent-pending sensor and software to alert staff in nursing homes and skilled care centers when an adult diaper needs to be changed.
SmartBrief technology has the potential to reduce facility costs by eliminating unnecessary product changes, and its data tracking capabilities can make it easier to schedule staff and control inventory, Wilson says.
According to Gweepi Medical, the company that created the SmartBrief, using their patent-pending technology will result in cost savings for long-term care facilities and improved skin health for those who wear incontinence products. Wireless technology alerts staff when an incontinence product needs changing, and a user-friendly dashboard records data that administrators can use to track product inventory and operational efficiencies across multiple facilities.
One of its most important benefits to facility residents and their families is the potential for improved skin health, says Wilson. Removing urine and feces as soon as possible can help prevent skin breakdown and injury, increase wearer comfort and reduce urinary tract infections.
Gweepi Medical, based in Cambridge, Mass., and founded by a biomedical engineer and a software developer, is testing SmartBrief technology in a clinical setting and eventually will offer it to brief manufacturers. In addition, the company is researching cost-effective ways to apply the software to the home care setting.
Visit The CareGiver Partnership blog for further reading on incontinence and skin care.
The CareGiver Partnership is a national direct-to-consumer retailer of home healthcare products for incontinence, skin care, mobility, daily living aids, nutrition support and more. In its sixth year of providing products and services that help caregivers and loved ones maintain personal dignity, the company also offers an online library of more than 1,200 family caregiver resources and personal service by experts in caregiving. Call 1-800-985-1353 or visit http://www.caregiverpartnership.com.