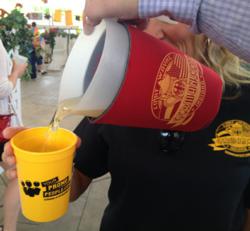 Fort Wayne, IN (PRWEB) July 31, 2012
Coolie experts, Your Promo People, have recently created the custom beer pitcher coolie and the custom solo cup coolie. The idea began when Troy Lewis, director of online sales at Your Promo People and a beer connoisseur, along with Larry Davis, YPP Graphic Artist, began thinking about the Fort Wayne German Heritage society's annual GermanFest. GermanFest was in need of a way to keep their pitchers and stadium cups of beer cold in the warm summer heat; the answer, to develop custom coolies for the event.
A coolie is a foam, scuba or neoprene device that is designed to insulate a canned or bottled beverage. Since its invention, the beer coolie has evolved both in material and style. Over the years, the materials of which the beer koozie is made has changed and the addition of the Zipper Bottle Koozie was made to ensure no beverage was left behind. Companies have even created koozies for 40oz bottles. What about other ways drinks are served? Why not beer pitchers and solo cups?
GermanFest sold the custom pitcher koozies and solo cup koozies at the event the first week of June. The custom made coolies went over with extreme success. The cup coolies sold out and the pitcher coolies neared that during the week-long festival.
Not only did Your Promo People supply GermanFest with the custom-made coolies, the festival also served their beer out of custom, plastic stadium cups courtesy of Your Promo People.

With inspiration, Your Promo People has expanded their already, large line of coolie products, to house two more, the custom pitcher coolie and cup coolie. The new products made their debut at GermanFest, but Your Promo People, do not anticipate a one-hit wonder.
About Your Promo People
Your Promo People, a division of JH Specialty, Inc, provides a practical solution to all promotional needs. JH Specialty is a full-service marketing communications company based in Fort Wayne, Indiana. Founded by John Henry III in 1998, the company specializes in the utilization of technology in social media marketing applications including, digital marketing, email marketing, search engine optimization, events and promotional products fulfillment, website design, and web development. JH Specialty provides marketing solutions for a variety of clients from Fortune 500 companies to Mom and Pop shops across the United States.