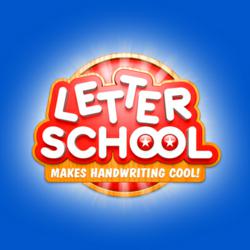 Amsterdam, the Netherlands (PRWEB) July 25, 2012
After half a year in the App Store, the educational app LetterSchool appears to be well received by elementary school educators, parents and therapists in North America, Europe and Australia. An evaluation of the apps first six months confirms Boreaal Publishers theory: serious games can be an important part of the solution for better handwriting education. As anticipated, LetterSchool meets the need for a new, stimulating method to teach children how to write. The many e-mails and reviewsand the apps sales numbersconfirm it. The response has been overwhelmingly positive, and the most frequent comment is a desire for the sequel.
LetterSchools greatest achievement is that it creates a very stimulating learning environment, offering kids a truly compelling gaming experience. The reviews and e-mails that Boreaal received in the apps first few months confirm this, and theyre still coming in. For example, Teachers With Apps, whose goal is to be a credible resource for quality educational apps, just wrote the following about LetterSchool: We are so thoroughly impressed we have chosen to post another full review of this sensational app! When we field-tested this app, we had to struggle to get our iPads back from the students. They kept insisting, Just one more, PLEASE! There is nothing else like it in the App Store. A list of the apps awards and experts reviews is available at LetterSchool.com.
The makers of LetterSchool are making an impressive debut in the field of apps. Recently, the app reached a milestone: just a few months after its release, more than 100,000 copies of the app have been sold. Thats a striking result for an app that teaches something generations of children have wrestled with: how to write letters and numbers.
LetterSchool competes with advanced mobile games, boasting high-quality graphics, effects and animations at a level rarely seen in apps for young children. This simple, consistent, clue-based method is designed to work for all children. The wide variety of games captures the attention and keeps players practicing their letters and numbers, over and over again. That probably explains the apps success, despite the fact that handwriting isnt exactly a trendy subject.
In the app, young children practice each letter or number in four steps combining different learning approaches. They first play every letter and number in the silver level, then play them again in the gold level with greater challenge. To put their acquired skills to the test, players write their very own letters in the final free-form writing game. This extensive practice in two distinct levels ensures childrens letter knowledge takes permanent root. LetterSchool guides kids by providing subtle yet highly effective visual and auditory feedback when it intelligently detects that they need a hand. This way, young players are completely free to explore the mysterious world of letters, acquiring letter and number fluency in their own, intuitive way.
In order to make LetterSchool a rock-solid piece of software, the makers didnt just rely on their own experience in education, software development and computer graphicslittle experts tested the app thoroughly. LetterSchool is a universal application for the iPad, iPhone and iPod touch.
Install the free lite version of LetterSchool which will allow you to reach the gold level and test-drive the free-form writing game more quickly. Reporters can also request a promotional code for the full version. Feel free to ask for our media kit containing high-resolution artwork on the contact page of our website.
LINKS

LetterSchool website:

http://letterschool.com/
LetterSchool video:

http://youtu.be/4sDZqBMqG-4
iTunes, LetterSchool:

http://itunes.apple.com/us/app/letterschool/id435476174?mt=8
iTunes, LetterSchool Lite:

http://itunes.apple.com/us/app/letterschool-lite/id481067676?mt=8
Overview of awards and reviews:

http://letterschool.com/reviews.html
Find More Graphic Press Releases