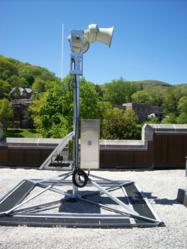 East Boston, MA (PRWEB) July 25, 2012
Acoustic Technology Inc. (ATI Systems) of East Boston, MA is pleased to announce its mass notification system was successfully installed at the United States Military Academy at West Point for a comprehensive mass notification solution. The system will assist and alert personnel in the event of an emergency and allow leadership to rapidly communicate critical response information.
The United States Military Academy at West Point is a major military icon. The United States Military Academy has been educating, training, and inspiring leaders of character for United States Army and for the nation for more than 200 years. With 600 admin staff and approximately 5,000 undergraduates, the academy sits on scenic high ground overlooking the Hudson River, 50 miles (80 km) north of New York City. The entire central campus is a national landmark and home to scores of historic sites, buildings and monuments.
ATI Systems was awarded the contract to install a complete turn-key notification system capable to provide real-time emergency and essential information through a Giant Voice (GV) alert systems to personnel located on the West Point, United States Military Academy. The system consists of 11 High Powered Speaker Stations (HPSS16), 2 Outdoor Speaker Units (OSU) and controlled by 3 Central Control Stations (CCU).
The installed system has excellent intelligibility of speech and voice clarity, natural sounding and free of distortion so that personnel easily understand information and directions. The GV system is activated via wireless radio frequency. The GV system speakers were installed on freestanding poles and on existing buildings. The speakers are weather resistant and can operate in all environmental conditions consistent with the geographical areas of West Point, NY.
The central control stations are used for activating, controlling and monitoring the entire system. The control stations provide an interface to allow a typical CD to connect to control station using an audio jack to allow the user to play external music using a CD player, MP3 player or connect to a computers audio output to play .wav files. The control stations are fully integrated with the existing DesktopAlert software. The integration with the DesktopAlert system allows the operator to send emergency notification messages to network computers in addition to activating the ATI system from any computer on the school network.
The central control stations are configured with ATI Systems proprietary MassAlert