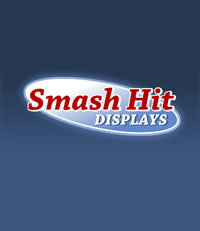 Gig Harbor, WA (PRWEB) July 17, 2012
Smash Hit Displays, an international Trade Show Displays company announces the launch of their redesigned website at http://www.smashhitdisplays.com which showcases the companys continual commitment to meet the needs of trade show exhibitors.
Having positioned themselves as a leading trade show display company over the last eight years, Smash Hit Displays takes an exciting step after revamping their trade show display blog last month. Today, they are pleased to announce that they have redesigned their website to be a full service trade show supplier.
The redesign of our website represents the next step in fulfilling our vision and complete commitment to meeting our trade show display customers needs and help them be even more successful at their next event, says owner Maureen Nixon. The new website is even more user friendly and helps potential clients intuitively find information they need about Smash Hit Displays core products and services.
Some of these services include:
1. Trade show displays From truss displays to pop up displays the new site has detailed descriptions along with pricing and options making it easy to for the customers to get their questions answered and choose the right type of display to fit their needs and budget.
2. Graphic Design Services The graphics design department can create a new logo design and corporate identity to producing eye-catching trade show graphics for booths and companys advertising needs. Smash Hit Displays excels at designing graphics which a company can build their corporate identity around.
3. Custom displays A big trend in sales has been custom displays. From 10 x 30 foot displays to 30 x 30 foot custom displays, Smash Hit Displays carries a variety of displays that can be customized to fit the needs, style and budget of any company.
From providing our customers with the best prices on the internet to giving the highest level of customer service in the trade show display industry from our staff, Smash Hit Displays prides itself on serving the customer, says Operations Manager, Timothy Carter. The website redesign is the natural step in our companys evolution.
About Smash Hit Displays:

Smash Hit Displays has become the go-to company in the trade show industry. Not only for their wide selection of quality and budget-friendly trade show displays, but also for their courteous and knowledgeable staff. Smash Hit Displays offers the following products and are constantly adding more based on trade show trends: pop up displays, truss displays, banner stands, custom displays, trade show exhibits, hybrid displays, fabric tension displays, and more.
Find More Graphic Press Releases