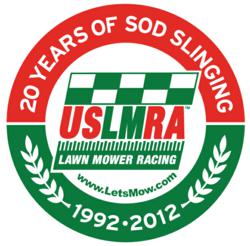 Northbrook, IL (PRWEB) September 06, 2012
STA-BIL Fuel Stabilizer has announced the 2012 National Lawn Mower Racing Points Champions in the STA-BIL Lawn & Garden Mower Racing Series, crowned at the 20th Anniversary United States Lawn Mower Racing Association (USLMRA) STA-BIL Keeps Gas Fresh Finals National Lawn Mower Racing Championships, held Labor Day Weekend in Delaware, Ohio.
More than 120 racing lawn mower racers from 20 states and Canada kicked grass in 11 racing classes and Gold Eagle Co. and USLMRA President Bruce Kaufman Mr. Mow It All were inducted the USLMRA National Lawn Mower Racing Hall of Fame & Museum of America.
We had 127 racers including sod stompers from Canada, to make this a truly international mow down show down, said Bruce Kaufman, Mr. Mow It All USLMRA Founder and President. We added four new classes this year, from mild to wild, and really opened up our rules to allow more affordable classes as well as wide open builds. It was also especially gratifying to see so many family combinations racing together including fathers and sons, fathers and daughters, uncles and nephews, a grandpa, son and grandson combination and even a mom, dad and son taking three of the top ten national points places in one class. The family that mows together grows together!"
2012 Top 10 USLMRA Points Champions:
Junior Prepared JP (Kids ages 10-15)

1) Isaac Ogg, MI, 2950

2) Wyatt Sullivan, NC, 2950

(Co-Champions)

3) Jordan Brown, MD, 2800

4) Lauren Filos, MD, 2700

5) Jonathan Barber, IN, 2600

6) Sam LaLonde, MI, 1950

7) Joseph Freiks, MI, 1900

8) Buddy Pippen, MI, 1100

9) Hayden Crosby, MI, 1050

10) Jacob Dean, AL, 900

11) Jared Callantine, AR, 900
Governed Prepared Kids - GP/K (Kids ages 12-15)