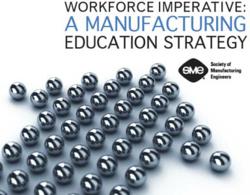 Chicago (PRWEB) September 10, 2012
The Society of Manufacturing Engineers (SME) today put forth a national action plan:Workforce Imperative: A Manufacturing Education Strategy, at the 2012 International Manufacturing Technology Show (IMTS) at Chicagos McCormick Place. It calls for manufacturers, educators, professional organizations and government to coordinate and standardize efforts aimed at reversing the skills gap crisis and preparing a skilled workforce for the high-tech manufacturing jobs of today and tomorrow.
The white paper addresses a manufacturing education void where 600,000 jobs are currently unfilled due to a shortage of properly trained workers. By 2015, that number is projected to reach 3 million openings. The report calls on all stakeholders, including educators and industry, to work together to close this gap through:
1.