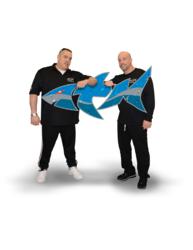 Irvine, CA (PRWEB) August 23, 2012
The next time youre watching the Animal Planet television series Tanked, keep an eye out for one of Rolands advanced wide-format inkjet printers or state-of-the-art rotary engraving machines on the set. The hosts and graphic design team of the popular Animal Planet series are using Roland equipment in the creation of many of their wild and elaborate fish tanks.
Tanked follows the antics of two brothers-in-law Wayde King and Brett Raymer as they run the nations largest aquarium company, Acrylic Tank Manufacturing (ATM). King, Raymer and the rest of the Tanked crew rely on a Roland VersaCAMM VS-640 wide-format inkjet printer/cutter and a Roland EGX-360 Rotary Engraving Machine to add unique design touches to their unconventional, larger-than-life projects.
According to Phillip Dominguez, art director for Acrylic Tank Manufacturing and owner of Identity, Inc, a Las Vegas-based advertising and print studio, Roland technology is playing an essential role in the making of ATMs highly customized fish tanks. We build tanks for a long list of noteworthy clients, including some A-list celebrities, and each one is incredibly personalized for the individual, said Dominguez. An important part of that customization process is incorporating bold, colorful prints and precision graphics, and thats exactly what the VersaCAMM VS-640 delivers.
Dominguez is also impressed by the design elements made possible by the VS-640 printers specialty ink capabilities. Having the ability to incorporate white and metallic inks into our graphics is a big advantage, he noted. Other printers weve used in the past simply didnt have this kind of functionality.
ATM has used its Roland large-format inkjet printer/cutter to build many memorable client aquariums, some of which have been showcased on Tanked. These projects include a one-of-a-kind Mob fish tank for the Tropicana Hotel & Casino in Las Vegas, as well as incredibly inventive New York Phone Booth and Pinball Machine tanks built for private residences, all featuring stunning, vibrant Roland prints.
While ATM relies heavily on its Roland printer/cutter to help bring its tanks to life, the company has found additional uses for this versatile machine as well. We used our Roland to wrap the ATM truck and trailer, explained Dominguez. Its an unbeatable promotional vehiclepardon the pun. You cant miss our rig as it cruises down the road. Like our tank graphics, the vehicle wraps are bright, colorful and unusual.
ATM is also using its Roland EGX-360 Rotary Engraver to add special touches to the unusual fish tanks the team builds for restaurants, casinos, banks, hotels, churches, corporate offices, mansions, zoos and museums around the globe. Were really just getting started with the EGX-360, but from what Ive seen so far, its another truly amazing machine, noted Dominguez. I can think of all kinds of applications for projects were planning in the second half of the season. Its the perfect tool for adding eye-catching 3-D effects to the one-of-a-kind tanks we create.
Along with its high-quality large-format printers, printer/cutters and rotary engravers, Roland makes an array of high-tech, yet user friendly, products and accessories for the dental, photography, packaging and 3-D modeling industries. To learn more about the complete Roland lineup, visit http://www.rolanddga.com or call (800) 542-2307. For more information about Acrylic Tank Manufacturing and Tanked, visit http://www.acrylicaquariums.com.
About Roland DGA Corp.
Headquartered in Irvine, Calif., Roland DGA Corp. serves as the U.S.-based marketing, distribution and sales arm of Roland DG Corp. in Hamamatsu, Japan. Celebrating 30 years of innovation, Roland provides business-critical solutions everyday to professionals across the sign, grand-format, sublimation, UV inkjet, digital graphics, vehicle graphics, fine art, dental, photography, packaging, label, engraving and 3D modeling industries. Roland DGA is ISO 9001:2008 certified, and Roland DG is ISO 9001:2008 and 14001:2004 certified.
About TANKED & Animal Planet Media
Following the antics of two brothers-in-law as they run the largest aquarium manufacturing company in the nation, Tanked dunks viewers into the high-decibel, family-owned business of Acrylic Tank Manufacturing (ATM). Led by business partners, best friends and constant rivals Wayde King and Brett Raymer, this 13,000 square foot facility, located in Las Vegas, produces some of the most outrageous, larger-than-life and one-of-a-kind tanks for some of the most striking fish and clients around.
Animal Planet Media (APM), a multi-media business unit of Discovery Communications, is the world's only entertainment brand that immerses viewers in the full range of life in the animal kingdom with rich, deep content via multiple platforms and offers animal lovers and pet owners access to a centralized online, television and mobile community for immersive, engaging, high-quality entertainment, information and enrichment. APM consists of the Animal Planet television network, available in more than 96 million homes in the US; online assets http://www.animalplanet.com, the ultimate online destination for all things animal; the 24/7 broadband channel, Animal Planet Beyond; Petfinder.com, the #1 pet-related Web property globally that facilitates pet adoption; and other media platforms including a robust Video-on-Demand (VOD) service; mobile content; and merchandising extensions.