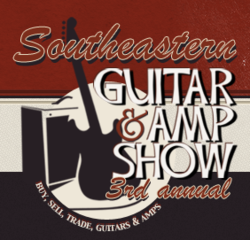 Burgaw, NC (PRWEB) August 24, 2012
Mojo Musical Supply, a renowned manufacturer of guitar amplifier cabinets and an amplifier parts supplier in Burgaw, N.C., has announced that it will be hosting the Southeastern Guitar and Amp Show (SEGAS) for the third year in a row. This event brings guitar, amp and effects pedal builders and enthusiasts from across the country and gives attendees the opportunity to show their wares and try new products from some of the best manufacturers in the industry. The show takes place September 22-23 at the Raleigh Convention Center in Raleigh, N.C., and general admission is free.
After having attended guitar and amp trade shows across the country for many years, the team at Mojo Musical Supply decided to put on their own. The company often found other shows lacking in one area or another and, after much preparation and planning, debuted the first annual SEGAS to address those shortcomings. In the years since, the show has become a major industry show attracting both musicians and manufacturers from across the country and around the world.
Taking its original ideas for the perfect trade show even further, 2012's SEGAS will feature an amp lounge, where guitarists can try out the latest amplifiers first hand all weekend long. In addition, guests will be able to attend the many lessons and clinics offered during the show. Additionally, guests are invited to enjoy a performance by Joel Kosche, guitarist from the band Collective Soul, and special guest Damona Waits.
For more information on the SEGAS, visit Mojo Musical Supply online at http://www.mojotone.com or visit the trade show's website at http://www.guitarandampshow.com. The show is free and open to the public all weekend long, but guests interested in partaking in the clinics will need to purchase a $ 20.00 weekend pass.
About the company:
Mojo Musical Supply has been in business for over 18 years as an amplifier cabinet manufacturer and amplifier parts supplier. Through the years, the Mojotone