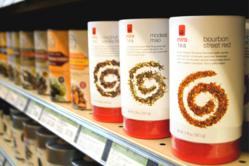 Seattle, WA (PRWEB) July 25, 2012
Miro Tea introduced their first line of custom-packaged loose-leaf teas to the retail shelves of Seattle area Whole Foods in June 2012. Previously, the companys select array of product was sold in hand-labeled tins or distributed in bulk to partnering cafes in the area. With the help of Creative Retail Packaging, Miro Tea now has a line of custom packaged tea that spans a broader retail wingspan across the city of Seattle.
When Miro Tea first approached Creative Retail Packaging, co-owners Thong Le and Jeannie Liu were in talks with Whole Foods to evolve their shelf presence by investing in custom packaging. Whole Foods wanted to have our teas in their stores and agreed to carry our product despite our simple packaging, said Le. After we got the product on their shelves, we communicated and worked closely with the buyers to determine what might be appropriate [for custom packaging] given our unique brand and product quality. We also incorporated feedback from our store customers to make sure we had something that would resonate well there, too.
After reviewing Le and Lius vision and mission, CRP worked closely with them to create a design that incorporated the companys brand attributes and reflected the caf