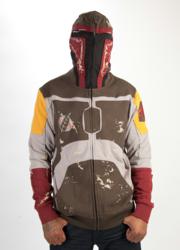 New York, NY (PRWEB) July 17, 2012
The Star Wars hoodies and t-shirts collection is now available, five years after the original release of a previous version of the line inspired by Eckos collaboration with Lucas Films.
The collection plays off the popularity of the classic film graphics and the details specific to the well known characters in the film series.
The Star Wars Hoodies
The Star Wars hoodies fully transform a person into their favorite character, whether it be a Storm Trooper, an X Wing Pilot or Boba Fett. Each hoodie features the same zip-front, extending past the collar to create a costume-like mask each with its own unique design.
The X Wing Pilot is modeled after Luke Skywalkers jumpsuit, complete with a helmet-style hood that includes a realistic fighter pilot visor. While the Stormtrooper hoodie gives the wearer the full experience as a member of the Galactic Empire. Lastly, the Boba Fett hoodie includes official markings with the Mandalorian crest on the sleeve and Jaster Mereels clan sigil on the chest with the full zip helmet on the hood of the hoodie.
The hoodie collection is available here: http://unltd.is/LoBuPo
The Star Wars T-shirts
The new release of Star Wars t-shirts includes four designs, each reflecting the synergy between the Ecko and Star Wars attitude. Each Star Wars t-shirt features text centered around the lingo of the Star Wars universe, but with an Ecko twist. Set behind the text is imagery from the film series, making the line wearable by the stylish and Star Wars fans alike.
For example, the shirts feature text such as Proper Swag Is Twin Jets, Storm The City, Seek And Destroy or Welcome To The Dark Side.
The t-shirt collection is available here: http://unltd.is/LWdGZf
About Marc Ecko Cut & Sew
Launched in 2004, the Marc Ecko Cut & Sew Collection combines classic tailoring with bold graphics and subtle embellishments. It was designed for those who want to start dressing a little more seriously but still maintain their youthful edge. The line includes t-shirts, premium denim jeans, hoodies, button down shirts, footwear, and watches, all of it pulled off with just the right amount of swagger.
CONTACT:
Brian Honigman

Marc Ecko Enterprises

brianh(at)ecko(dot)com

###
Related Graphic Press Releases