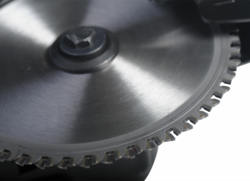 Clearwater, FL (PRWEB) September 07, 2012
Infusion Brands International (INBI - OCTBB) -- a global consumer products company -- continues to expand its presence in the Canadian market through its most recent global distribution alliance with King Canada Inc.. This agreement grants exclusive distribution rights for the DualSaw double blade technology and brand throughout all of Canada.
DualSaw, a precision-engineered product with two blades that simultaneously rotate in opposite directions, has become one of the most successful products launched via direct response television since Infusion Brands took over product distribution in 2009.
King Canada is a leading distributor of power tools in Canada. This agreement provides King Canada with an exclusive distribution agreement for all channels of distribution and retailers throughout Canada. King Canada currently distributes their own line of power tools and machinery into most major retail chains in the country. Moreover, they have more than 300 service centers throughout Canada to support their end users customer service needs.
"This is a very important strategic relationship to Infusion Brands because it ensures our Dual Saw brand will continue to gain brand recognition in North America which should ultimately translate to increased shareholder value," said Bob DeDecco, Chairman and CEO of Infusion Brands. "This new alliance with King Canada will expedite distribution of our DualSaw technology and brand throughout much of Canada faster than if we were to move forward on our own. We're excited to partner with a company with a long history of success in the hardware category, and we look forward to future collaborations with King Canada."
Infusion Brands is working behind the scenes on research and development for DualSaw product enhancements and product line expansions which have already been identified as future distribution opportunities between King Canada and Infusion Brands.
"After meeting with the team at Infusion Brands, and seeing their passion and enthusiasm for building innovative and quality products, backed by such strong brand recognition and merchandising efforts, we knew it was the right choice to partner with them," said Howard Richman, CEO of King Canada. Through our process of due diligence, we have come to believe it was in the best interest of all our stakeholders. Especially considering the product pipeline Infusion Brands has devoted to this brand, we believe this partnership will last for years to come.
Infusion Brands recently announced similar distribution alliances for DualSaw with Varo in Europe, Brand Developers in Australia and New Zealand, A-tech Maskin in Sweden, and BEST PPUH in Poland.
About Infusion Brands International, Inc.

Infusion Brands International, Inc. (INBI) is a consumer products company that leverages direct response to satisfy unmet market demands and solve everyday problems, with an array of innovative consumer products that have potential to disrupt their categories with significant competitive advantages, features and benefits. With physical offices in North America, Europe and Asia, Infusion Brands has worldwide reach and capability. For more information, visit http://www.infusionbrands.com.
About King Canada

King Canada is a privately held Canadian company that has been bringing quality tools and equipment to the Canadian market for nearly 30 years. As an extension of a steel business established in 1910, King has considerable industry experience to draw from. Beginning with only a few products, the product line today has been expanded to one of the most comprehensive in the industry. For more information, visit http://www.kingcanada.com
Related Tech Press Releases