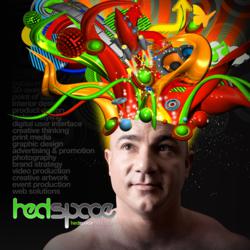 London (PRWEB UK) 31 July 2012
hedspace, a new and exciting creative multimedia studio in the heart of Hackney Wick, has started to land some exciting work.

This company started in winter of 2011, placing the utmost importance on engaging closely with clients.
hedspace use creative thinking to ensure that clients and creative staff work closely and share a common hedspace. Its a simple concept, yet one that has proven to be very successful for the company.
Founder Neil Wickenden says, for our clients it feels like having an in-house creative team, but without the enormous overheads of paying for staff during the quiet periods. The formula seems to be working well.
In this current climate of austerity hedspace has grown, in the few months, from a single-handed design and creative studio to a multimedia studio that now has 34 creatives working along-side large multinational corporate clients, offering creative services including Graphic Design, Branding (Logo/Identity), Web-Digital, Photography, video Production solutions and more.
The video production department has grown surprisingly fast, producing promotional videos and pop videos for businesses and for a small local band that are soon launching. We can drop in names when the release date has passed.
The company has had a very busy few months and employed some amazingly talented illustration artists who have been producing images for a firm of international jewellers.
Its not been an easy start to 2012 but, as with most of the East End, things are looking up for hedspace.
Find More Graphic Press Releases