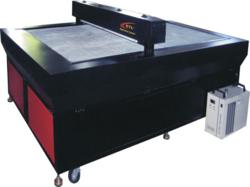 (PRWEB) July 12, 2012
Eastern Laser, the premier laser machine manufacturer, offers new laser engraving machine ETC-2516 for leather engraving. According to Eastern Laser, ETC-2516 is usually used for leather engraving of upper vamp, handbags, and dermises, boxes and cases, and so on.
The processing forms include drilling holes, drawing lines on the surface or cutting pictures. The process requirements: no yellowing on the surface of the lines, the bottom color of the materials should be showed, no blacking at the incision of the dermis, the engraving is clear. Materials include synthetic leather, PU leather, PVC leatherwood, Rough dermis materials, semi-products, various kinds of leather upper materials, and so on. The engraving speed is determined by sizes of graphics. The slower speed, 0.8 meter per minute, is for small pictures and the higher, 1.5-3 meters per minute, is for big pictures. The optical density 75% is enough to breakdown most leathers. The speed of dermis cutting will be slower, 0.4-1.2 meters per minute and the optical density is 60-75%. The incision of dermis will black. Air slash will generate oxide layers. Its difficult to meet the requirements of no blacking at the incision of dermis. To meet these requirements, some processing is need, such as move away the blacking edge with plasticizes. And until now, there is no resolution to the odor generated in the cutting process. Cutting with nitric require high pressure nitric and its of slow speed and high cost. But its of better effect to cut non-oxide layer. Different leather should use different cutting methods. For example, in marking of leatherwood, the leather can be wetted first and then marking for better effect. For cutting of dermis, masking tape can be laid on to avoid yellowing; blacking of incision need special treatment.
Laser machine can mark characters, serial number, date of production, bar code, two dimensional bar-code etc. Moreover, product Numbers, serial number or the date, time can skip automatically. A laser target text& graphics is so clarity, and can not be altered or erased, facilitating product quality and tracking system more effective, whats more, colluding, fake or out of date products can be prevented.
Laser marking machine can process all metal products, such as: stainless steel, iron, copper, aluminum, gold, silver, alloy and all the metal oxides , which is widely applied in hardware products, jeweler, watches, integrated circuit (IC), plastic buttons, mobile communications, automotive parts, tableware, sanitary ware, hardware tools, electric appliance, medical equipment, etc.