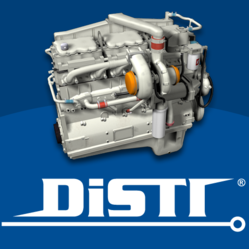 Orlando, FL (PRWEB) August 01, 2012
The DiSTI Corporation, a leading developer of interactive 3D software and customized training solutions, has released the Virtual Engine app for the iPad; the first truly interactive 3D virtual engine maintenance trainer on the Apple App Store. The Virtual Engine app boasts an immersive and highly interactive 3D maintenance training environment giving the user a spatial awareness of job procedures that transcends traditional text or video based materials. To download the free app, visit http://www.disti.com and click on the banner to go to the Apple App Store.
Created with DiSTIs GL Studio ES, the Virtual Engine app immerses the user into a mobile maintenance training lesson while retaining all the fidelity and functionality of a desktopbased virtual maintenance trainer. The app includes a fully interactive 3D model of the Cummins 855 Diesel Engine, a list of job procedures with the ability to perform each one through simple touch gestures, and a color coding feature to clearly identify physical constraints when moving parts during a lesson. The app also provides a view of the parts table, allowing the user to closely inspect removed parts.
The next trend in maintenance training is the ability to take the training with you. Simply porting electronic documentation and videos to a tablet completely misses the mark on what this mobile technology is capable of delivering. This Virtual Engine app was made to set a new standard and show how easily GL Studio ES can create customizable training content, said DiSTI Chief Technology Officer, Darren Humphrey.
Maintenance training applications are just one of the many case areas that GL Studio ES services. With touchscreen displays making their way into just about every facet of the consumer's domain, the interface experience will make or break a new product. The single code base and powerful development features in GL Studio ES yields the ultimate experience in interface development and deployment. GL Studio ES is the unifying bridge between the graphics artists vision, the application developer's control and the embedded system's display hardware.
DiSTIs Virtual Engine iOS app is compatible with the iPad iOS version 5.1 or later. It can be downloaded for free at http://itunes.apple.com/us/app/virtualengine/id542754253?mt=8. For more information about GL Studio ES for App development, visit http://www.disti.com/GLES.
About DiSTI
DiSTI is a global leader in the development of Human Machine Interface software for businesses, governments and the military. The companys flagship product, GL Studio, enables programmers and developers to build highfidelity graphics, 3D simulations and fully interactive controls into their models, enhancing the level of realism and sophistication, while improving learning and retention.
More than 500 customers worldwide, including BAE, Boeing, Dassault, FedEx, Lockheed Martin, Honeywell, Raytheon and Thales, use DiSTI solutions to build maintenance trainers, create PC and Internetbased courseware and to develop components for safetycritical applications. As a full service provider, DiSTI offers a complement of customer programming and development services, and is the recognized leader in training solutions for the global simulation and training community. For more information, visit http://www.disti.com.