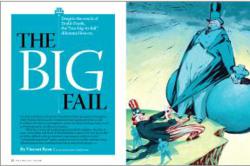 New York, NY (PRWEB) July 31, 2012
CFO took six American Society of Business Publication Editors Northeast Regional Awards and two National Awards at a banquet in New York City last week. Six of the awards were for design, specifically honoring Robert Lesser, CFOs designer/art director.
Lesser received a national gold award, two regional gold awards, two regional silver awards, and one regional bronze award for graphics excellence. The national gold was for Graphics Excellence, Opening Page/Spread, Illustration (The Big Fail). The regional golds were for an illustration in an opening page or spread (Fit to Be Tied) and for a computer-generated front cover (Getting There From Here). The silvers were for an opening page or spread photo (Going for the Other Green), and for a front-cover photo (Where Theres Smoke, Theres Fraud). He also received a bronze award for a photo for an opening page or spread (Where Theres Smoke, Theres Fraud).
On the editorial side, the magazines Topline section was honored with a bronze award for editorial excellence in a regular section. Scott Leibs, Marielle Segarra, and Kate OSullivan were singled out for their work on the section in the July/August, September, and October 2011 issues.
CFO.com received a national silver award for Online Excellence, New or Relaunched Web Site, honoring team members Robert Lesser, Deana Colucci, Marie Leone, Edward Teach, Jiun Chin, and John Pal.
Were very proud of our editorial and design teams, said Rob Stuart, EVP and Publisher of CFO Publishing. Over the past year we have introduced several new products, and redesigned the magazine and Web site. Its very gratifying to be recognized along with the countrys most prominent magazines as having provided our readers with a consistently strong publication month in and month out.
ASBPEs Azbee Awards of Excellence program is one of the most competitive there is for business-to-business, trade, association, and professional publications. The awards recognize outstanding work by magazines, newsletters, and digital media Web sites, e-newsletters, digital magazines, and blogs. The competition is open to all U.S.-based publications. The ASBPE will present its national awards later this year.
About CFO Publishing:

CFO Publishing LLC, a portfolio company of Seguin Partners, is the leading business-to-business media brand focused on the information needs of senior finance executives. Delivering content through multiple channels including online, digital, mobile, and print, the business consists of CFO magazine, CFO.com, CFO Research Services, CFO Learning and CFO Conferences. CFOs award-winning editorial content and loyal, influential audience make it a valued resource for its readers as well as an effective marketing partner for a wide range of companies that seek to reach them. CFO has long-standing relationships with nearly a million finance executives.