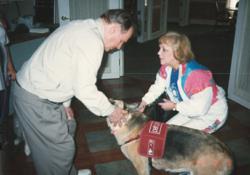 San Antonio, Texas (PRWEB) August 31, 2012
Alzheimers and other dementias are imposing huge societal economic burdens, primarily through the costs of care by unpaid caregiving by families and friends. The Alzheimers Caregiver, http://www.thealzheimerscaregiver.com has met the urgent need to develop a cost-effective educational care program whose evidence-based prevention strategies meet the needs of Alzheimers caregivers through all stages of the disease. Alzheimers and other dementias already frighteningly affect every healthcare system in the world.
The Alzheimers Disease Internationals (ADI) World Alzheimer Report 2009 says 35.6 million people worldwide live with Alzheimers or other related dementias. A large proportion of people with Alzheimers need some care, ranging from activities of daily living , such as Bathing, dressing, grooming, feeding and helping the person use the toilet or manage incontinence, to full personal care and round the clock supervision.
The World Health Organizations (WHO) Global Report on Innovative Care for Chronic Conditions alerts policymakers to the implications of the decreases in communicable diseases and the rapid ageing of populations. Healthcare is currently organized around an acute, episodic model of care that no longer meets the needs of patients with chronic conditions such as Alzheimers and other related dementias.
Innovative approaches and creative programs such as The Alzheimers Caregiver that improve the management and outcomes associated with chronic conditions are slowly being developed around the world. These innovations in care range from education to integrating lay persons to provide services. Creative program developers like The Alzheimers Caregiver have used innovative formats to deliver these new programs, including among others, online subscription services that are readily available at the caregivers fingertips.
The Alzheimers Caregiver is: (i) based on current research, (ii) developed by experts in dementia care giving, (iii) translated to user-friendly language aimed at the average caregiver who may not have completed high school, (vi) rigorously tested by an iterative review process involving researchers, trainers, and caregivers, (v) delivered in interactive Internet format such as an interactive audio/visual media format with sections that can be viewed in any order and at the individuals pace, and (vi) primarily utilizing websites, mobile websites, mobile handheld devices and mobile applications using adult education and computer based training methods that are directly useful and accessible to the widest variety of caregivers worldwide.
The Alzheimers Caregiver is an online subscription program translates the best of dementia care research into the language of care managers and hands-on caregivers and develops, disseminates, and delivers these materials in an interactive Internet format including websites, mobile websites, mobile handheld devices and mobile applications that are directly useful and accessible to the widest variety of caregivers throughout the world.