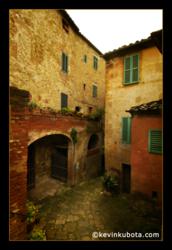 Bend, OR (PRWEB) July 10, 2012
Over the past several years, photo-industry icon, Kevin Kubota, has done seven workshops in Italy. This year it'll be program number eight, September 30 - Ocotber 6, 2012. What makes this program so unique is that it's only open to twelve attendees. Cost is $ 4875 per person and includes all transportation, accommodations, tours and most meals with wine. The workshop includes daily photo excursions and outstanding classroom time with instructional help with photo projects, workflow and image enhancement. The only requirement is a passion for photography and your gear - the Kubota team will help you with the rest!
MORE DETAILS:

Each day of the workshop will include trips to wonderful attractions such as castles in the region, production facilities for local cheese, oils, and balsamic, wineries, cooking classes, and more. The local guides will lead the group to some of the most picturesque locations of the famed region, and along the way Kubota will help each participant with different aspects of their photography, from capture to workflow techniques.
"The Secret Italy trip was fantastic!" said Shane Rodimel, a past Secret Italy attendee. "The convenience of having everything planned out for us from each stop along our way that offered incredible photo ops, all the way down to the wonderful Italian dinners we shared together. All we had to do was show up! My wife, who is not a photographer, had an awesome time as well. We made many friends and continue to stay in touch. A big thanks to Kevin, Clare, Max and Cristiana for their planning and hospitality. I would do it again in a heartbeat."
This year's workshop is limited to 6 couples or 12 participants, and includes all in-country transportation, accommodations, tours and the majority of the meals. The group will have most meals with wine together daily in order to enjoy each other's company as well as experience true local cuisine. All attendees are responsible for their own airfare to Italy.
For more information on the workshop, please visit the Kubota Image Tools website.
About Kubota Image Tools:
Kubota Image Tools was created by Idea Guy Kevin Kubota to empower photographers with time-saving and creative tools for Photoshop