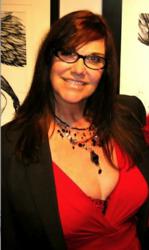 Los Angeles, CA (PRWEB) August 30, 2012
Makeovers, transformations, metamorphoses; call them what you like, they are timeless. In the "Wizard of Oz," the characters all underwent makeovers before they were allowed to see the Wizard. The wizard empowered the characters by giving them each a symbolic representation of what they hoped to become. The characters needed the external reinforcement to believe in themselves. Everybody likes makeovers. Why else would major magazines like InStyle and Oprah publish annual makeover issues? These magazines, as well as a number of television shows, capitalize on our fascination with the before and after images of both celebrities and real people.

Women just want to get dressed. Today the average American woman wears a size 14 or larger, yet the messages received from the media show mostly younger women who are always thin and very attractive. This dampens enthusiasm for squeezing into the latest runway fashions. Women want to feel pretty and look good in their clothes. But often, the outcry is I cant find it. It doesn't fit. I CANT WEAR THAT!
"It's simply a matter of taking the time to think about your personal style," says former Hollywood stylist Linda Arroz, co-author with Jemi Armstrong of "Affordable Couture." Arroz gave herself a makeover and went from working as a spot welder on the assembly line to becoming one of the first plus size spokes models to get a contract from a major brand (the Spiegel catalog). Based on her makeover method If You Can Be That You Can Wear That