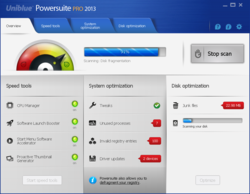 Valletta, Malta (PRWEB) July 12, 2012
With over 6 million PCs already optimized by their top-selling software, Uniblue has put more than 10 years of product innovation and customer feedback into Powersuite 2013; the newest version of the popular PC optimization software that brings all the award-winning features of Uniblues products into a complete performance solution.
The new intuitive interface presents users with simplified software management, resulting in Uniblue Powersuite 2013 being a PC performance solution for all levels of users, ranging from novices to experts. Users can tailor the software to suit their needs, from choosing from one of the 13 available languages to resizing the app on the desktop for better readability. The new release reflects Uniblues commitment to customer experience, offering users help and support from within the product interface itself; free 5-star* support is available in several languages via web-based chat and email.
With a fresh design for increased usability, Uniblue Powersuite 2013 is an easy-to-use product with tangible customer benefits, such as three types of system scans and an upgraded and improved system health indicator. New categories within the software deal with specific areas of the PC to offer unparalleled performance; these are Speed Tools, System Optimization and Disk Optimization.
Speed Tools