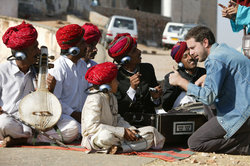 (PRWEB) November 11, 2008
Through music and film, 1 Giant Leap explores the universal complexities of human nature. Jamie Catto (Faithless co-founder) and Duncan Bridgeman set out on their journey, recording musical jewels and words of wisdom with the cream of the world's thinkers, writers and entertainers along the way. The duo travelled to the furthest corners of the planet, to ensure immense cultural diversity in this time capsule of humanity at its most inspirational.
"We're on a mission to make self-reflection hip for just a moment, just long enough to save us." Jamie Catto
'What About Me?' gives a fascinating insight into universal issues and our collective insanity: how we are ego-driven, insatiable in desire, wounded by childhood and unable to stop thinking, whilst leaving viewers feeling overwhelmingly inspired and empowered.
The all new website http://www.whataboutme.tv allows people from all walks of life to join the discussions, make their feelings heard and join an exciting movement that is rapidly gaining momentum.
Unscripted, with no story board; insightful conversations are captured with some of the most influential people of our era, from Noam Chomsky, Eckhart Tolle, Deepak Chopra and Sir Bob Geldof, to Gabrielle Roth, Ram Das, Susan Sarandon and Billy Connolly. Equally insightful contributions come from unknown people just getting on with their lives, from a tribal woman in Africa to an ostracised gay man in America. Together their words reveal how we are connected not only through our creativity and our beliefs but also through our madness.
The stunning music was interwoven, beginning with a pre-composed backing track which then grew and developed as each layer was added by a different musician in a different part of the world. Featuring legends such as REM's Michael Stipe, Alanis Morissette Maxi Jazz, Stewart Copeland and Carlos Santana, alongside African tribal and Bedouin musicians, Chinese rappers, Gabonese Pygmies and Tuvan throat singers.
4-years, 5 continents and 50 countries later, 'What About Me?' is an explosion of music and philosophy, an exquisite feast for the senses and the soul.
"An amazing film by two genius film-makers..." Bono
Jamie Catto

Musician, film director, editor, photographer, creative catalyst. As founding member and art director of the hugely successful band Faithless, Catto has enjoyed no fewer than five Top Ten singles ("Salva Mea", "Insomnia", "Reverence"), seen two albums go gold in the UK alone, playing to crowds of up to 80,000. As art director for Faithless' Cheeky label, Catto has directed critically acclaimed videos for their artists, including Faithless' stunning sign language film for "God Is A DJ." His photos and designs have adorned the covers of Skinny's Failure And Faithless' Sunday 8pm albums.
Duncan Bridgeman

Artist, producer, multi-instrumentalist. Bridgeman's music career started in the early 80's when he scored a Number One dance hit ("Give Me") with the groundbreaking soul band I Level. After leaving the band, he spent ten years as a successful producer and remixer, working with Duran Duran, Eurythmics, Shakespeare's Sister, Transvision Vamp and Paul McCartney. When Bridgeman tired of making other people's music, he packed his bags, grew his hair long, and joined a band called Tribal Drift. He spent the next few years creating music and playing festivals throughout Europe and the UK, ultimately forming 1 Giant Leap with Jamie Catto.
Notes to editors:
The first 1 Giant Leap production, Unity Through Diversity was nominated for 2 Grammys in 2003, sold over 300 thousand albums, and won numerous awards globally.
'What About Me?" is being screened in the UK for 7 weeks on Channel 4 in the UK from November 5th.
As Co-founder of Bondage for Freedom, (founded with Sam Roddick in 2008), Jamie Catto aims to make Activism the driving art movement of this era.
What the people are saying:
"Dazzling" - The Times
"Jubilant, unique, ambitious, epic, dramatic, life-affirming and positively absorbinga musical and visual feast" DVD Monthly
"This series is heartening, uplifting and joyous a fine example of inspired documentary-making. Don