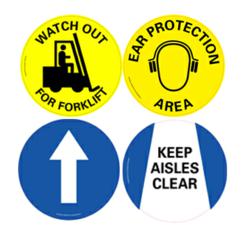 Wake Forest, NC (PRWEB) May 21, 2012
Stop-painting.com manufactures a wide variety of floor signs, mostly used in industrial settings such as factories and warehouses. They were the first to introduce epoxy embedded floor signs, which allow the text and graphics on floor signs to be completely protected from wear by the clear epoxy coating.
Recently they have added free standing plastic floor signs to their offering, and give customers the option of ordering any custom sign graphic. Local businesses often use floor signs to place on sidewalks to draw customers into their place of business. Stop-painting.com wants to promote the use of these types of signs inside of industrial facilities, to communicate messages about safety, organization, and efficiency to employees.
Safety floor signs communicate important messages that make workplaces safer for employees. "We look forward to seeing the creative customized floor signs that will come as a result of our newly expanded selection of options. Before businesses had to go to a local sign shop, but now they can order a custom floor sign online," says Cliff Lowe. Lowe anticipates catering to his industrial safety and Lean Manufacturing customers, offering them yet another way to visually communicate to their employees on the plant floor.
Stop-painting.com offers customers a printing service to customers who order floor signs. With a few clicks customers can send in their custom designs and build a custom floor sign online. InSite Solutions can print any custom graphics or text, and they have a variety of substrates available, from corrugated plastic to a material that can support dry erase markers.
InSite Solutions is the manufacturer of Superior Mark Floor marking tape. InSite holds two patents for custom printed traffic control materials. They offer Superior Mark vinyl floor tape and a variety of other traffic control solutions for sale on their ecommerce website, http://stop-painting.com/