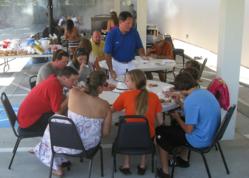 Houston, TX (PRWEB) June 11, 2012
(June 11, 2012) Okuma America Corporation, a leading builder of CNC machine tools and their distributor, Hartwig Inc., held an employee appreciation cookout on Saturday, June 2, 2012 to celebrate a successful first half of the year. Manufacturing is on the rise in Houston, as in other parts of the country, and Okuma and Hartwig support this growth by providing the latest technological advancements to customers.
More than 60 guests made up of employees and their families attended where the guests enjoyed music, water slide, snow cone machine, and lots of good food. In addition to showing appreciation for a successful first half of the year, this event was extra special as it was paid for by recycling material from scrap metal collected throughout the past few months and by customer donated scrap pipes. The Okuma Tech Center serves as a showroom for Okuma CNC machine tools and often performs test cuts and demonstrations for customers, which require metal cutting of many types.
We consider ourselves very fortunate to have such a great working relationship with our distributors. Without the cooperation between Okuma and Hartwig throughout the last six months, we would not have anything to celebrate, notes Tim Caron, Houston Tech Center Coordinator.
The Okuma Tech Center is open Monday through Friday 8:00 a.m. to 5:00 p.m. For more information or to schedule an appointment, visit http://www.okuma.com/tech-centers-and-training/houston or call (704) 504-6104.
###
About Okuma America Corporation:

Okuma America Corporation is the U.S.-based sales and service affiliate of Okuma Corporation, a world leader in CNC (computer numeric control) machine tools and machining process optimization, founded in 1898 in Nagoya, Japan. The company is the industrys only single-source provider, with the machine, control, drive and spindle all manufactured by Okuma. Along with its industry-leading distribution network (largest in the Americas), Okuma delivers an expansive breadth of products, technology strength and innovation, and deep service and support offerings that empower the customer. For more information, visit http://www.okuma.com


About Hartwig Inc.:

For more than half a century, Hartwig has been focused on helping its customers control their manufacturing destiny and keeping manufacturing in the United States. One of the largest machine tool and metal cutting distributors in North America, Hartwig owns and operates eight office locations covering 14 states in the Mountain and Central U.S. With a dedicated staff and heavy focus on after sale support and engineering, Hartwig continues to be an organization its customers turn to for their success. Hartwig is not just a machine tool distributor, but a company that makes sense doing business with. For more information, visit http://www.hartwiginc.com.