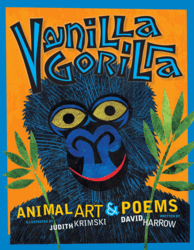 QUINCY, Mass. (PRWEB) May 17, 2012
Geek may be the new chic but weird is the new wonderful.
In her new childrens book, Vanilla Gorilla: Animal Art & Poems (published by AuthorHouse), Judith Krimski celebrates the animal kingdoms most curious creations. Through the stories of these unique animals, Krimski hopes to spread the message of self-acceptance to discouraged youth.
I recall the first time I felt the passion for art and creativity, Krimski says. I was in kindergarten, and I distinctly remember the elation of creating something beautiful out of paste and construction paper.
It was one of the happiest moments of my life and I hope the book inspires that creativity in children.
The book covers a variety of the animal kingdoms most mysterious members, from the aye-aye and fanaloka to the mandrill. Each animal comes complete with vibrant illustrations and engaging poems that will inspire childrens imaginations while also expanding their vocabulary.
The poems are meant inspire curiosity about the animal world and get kids excited about learning new words. Krimski says. I hope theyll see that being different and unique is what makes every one of us special.
Praise for Vanilla Gorilla: With the multitude of children's books published every year, it is often difficult for a new book to stand out, especially one that doesn't feature licensed characters from television or other media. Vanilla Gorilla: Animal Art & Poems does stand out because it's that good. Five star review from ForeWord Reviews https://www.forewordreviews.com/reviews/vanilla-gorilla/
For more information, visit vanillagorillabook.wordpress.com/
Vanilla Gorilla: Animal Arts & Poems

By Judith Krimski

ISBN: 978-1-4567-1190-0

Soft cover, retail price: $ 14.95
About the author

Judith Krimski has enjoyed a successful 30-year career as a graphic designer and illustrator. She currently lives in Quincy, MA where she also practices her passion for sailing as head coach of the Milton Academy sailing team, one of the top 25 private schools in the nation. When she isnt dreaming up new illustrations or sailing, Krimski enjoys spending time with her son Emmitt, and her wheaten terrier, Vera.
EDITORS: For review copies or interview requests, contact:

Lauren Cascio

Phone: 317-366-7897

Email: lcascio (at) bohlsengroup (dot) com

(When requesting a review copy, please provide a street address.)