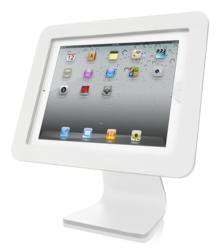 (PRWEB) June 21, 2012
iPad deployment among global customers is growing fast, and the education segment has been playing a key role in this trend.
It is no wonder that 44% of the top 50 iPad Roll outs list made by ZDNet are education institutes (K-12 education/ higher education) & enterprises.

Universities and school boards nationwide have discovered the great value in deploying the iPad and integrate it as part of their learning methods.
According to Educationnews.org and Sue Pascoe at the Palisadian-Post, the number of schools and districts providing electronic devices to their students has reached 2,000 and continues to grow at a rapid pace. The Corpus Christi School in California has adopted iPad programs from Kindergarten to teach language arts, social studies, math and science, and joined the ranks of about 1,000 other schools in the US that have implemented an iPad program from kindergarten through eighth grade.
Large iPad roll outs are all over higher education institutions as well. According to Jim Siegl, a Technical Architect in the Education industry, there are over 140 institutions that are currently deploying iPad with a wide array of projects; can be found in educational programs, students/staff information portals, tech and computer labs and many more.
Maclocks, the premier iPad Lock and security solutions manufacturer for all Apple devices has been providing iPad enclosures, iPad stands and iPad kiosks for hundreds of its education accounts and companies globally and has surfaced as the security and display solution leader for facilitating the security aspect of these roll outs.
Among Maclockss education accounts are famous institutions such as NYU, MIT, Northwestern, John Hopkins University, Georgetown, UCSD and many of the countrys leading universities who understand that the iPad is the device of choice to lead them into the future.
Ivy League institutions also have a respectful representation among Maclockss education accounts, Yale for example chose the iPad security and case bundle to be used at The Digital Media Center for the Arts, Browns department of Ecology and Evolutionary Biology had acquired iPad locks for their iPad roll out. Another demand that has been brought up by Harvard university department of Chemistry and Chemical Biology and Columbias faculty of classical studies is for universal laptop and iPad locks to be used for securing students and staff work stations in their facilities.
About Maclocks
With warehouses in Austin, TX, Maclocks designs, manufactures and sells the world's best selling custom iPad lock, iPad Enclosure, iPad Kiosk and other security locking solutions for Mac computers and tablets.
A member of the Compulocks group of brands, a leading supplier of computer security solutions to large corporations, federal governments, healthcare, education, resellers and distributors worldwide.