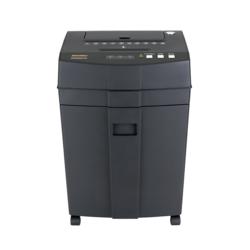 Chatsworth, CA (PRWEB) June 19, 2012
The RoboShredder Auto Feed Paper Shredder, introduced today by Aleratec, is an automatic shredder that can shred up to 80 sheets of paper at a time without user intervention. Its convenient auto-feed tray frees users to take care of other important business while insuring the confidentiality of sensitive information

.

Every year, millions of businesses and individuals suffer the cost, inconvenience and potential legal liability of identity theft and other breaches in information security. Using a shredder is the best way to keep sensitive information from getting into the wrong hands.
The RoboShredder keeps data safe. It not only auto-shreds paper, it will also destroy Blu-ray, DVD or CD discs and credit cards which can be fed through the manual feed slots. For smaller paper-shredding jobs, paper can also be fed through the manual feed slots, up to six sheets at time.
The RoboShredder will cross cut paper and credit cards to a shred size of just 3 x 9 millimeters, safely shredding confidential documents and data. It will strip cut optical discs into three strips, rendering any data on the disc unreadable.
Shredding large amounts of paper documents can be tedious and time-consuming, says Perry Solomon, Aleratecs President and CEO. The RoboShredders 80-sheet auto feed system addresses this problem with a simple, yet effective solution.
The RoboShredder has several additional features that ensure ease-of-use: