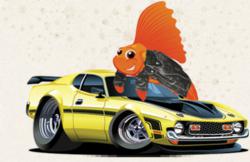 Los Angeles, CA (PRWEB) May 16, 2012
Though RoadFish.com mens lifestyle and finance magazine was impressed by Howard Sterns behavior on his first night as a judge for Americas Got Talent on Monday evening, RoadFish.com still wonders if NBC made a wise choice in adding Stern to a nationally broadcasted television show, one that is on during an expensive prime-time slot no less.
The Los Angeles Times reports that Howard Stern debuted as a judge for the show last night, during the episode that kicked off the seventh season of Americas Got Talent. Co-host Howie Mandel stated in a video clip, The show is about to go to a level it has never gone before. Stern will be replacing AGTs previous judge, Piers Morgan, who the LA Times reports was known for his pursed lips, buzzer trigger finger, and poor relationship with his fellow judges. The article reports that Stern was welcomed aboard last night among cheers of How-ward, How-ward, How-ward from the live audience.
The LA Times article states that Stern was shockingly sincere, sassy, self-effacing, and even at times sentimental during his first night as a judge on the season premier. Naturally, Stern told jokes, a couple of them a bit lewdsuch as his repeated references to his judge virginitybut overall Stern was reportedly kind, and the LA Times even referred to him as almost fatherly, and far less shocking than some of the auditioning acts themselves. The article reports that Stern and his co-judges, returning personalities Sharon Osborne and Howie Mandel, shared a great relationship on the show and that none of Sterns comments or jokes aimed at the other judges had any bit of mean-spiritedness or went too far over the top. Is Stern turning over a new leaf?
RoadFish.coms Senior staff writer is quoted as saying, Right off the bat, Im leery about having Howard Stern on a nationally televised program, in a primetime slot, that families watch together. For years, hes been working off of Sirius Satellite Radio, because he gets in too much trouble when hes aired on traditional radio. I can count on one hand the amount of times that hes been fined by the FCC for exceptionally coarse statements and vulgar comments. If you like that type of comedy and amusement, youre welcome to listen to him on satellite radio, but Im just not sure that he fits the persona of a judge on NBC, on a family show.
The NY Daily News attests that Howard Stern proved through last nights performance that he belongs on the show, however the article states Stern will face his biggest challenge when the goofy acts are sent home and the talent that remains must be judged professionally. The article states that Stern seemed very at-home in last nights environment, where the AGT auditioned talent from Los Angeles and St. Louis, many acts which were quite outrageous (including the Bird Lady who sang A Cockatiel Sang In Berkeley Square with 22 cockatiels perched on her shoulders.) The NY Daily News article asserts that this type of environment makes sense, since Stern has long been a fan of personalities who seem outwardly ridiculous. One of the biggest questions which the article brings to light is whether Stern will fit into the show that has already been established, once the goofy acts are gone.
Despite its initial doubts, RoadFish.com is optimistic after last nights season premier. RoadFish.coms Senior staff editor is quoted saying, I have to admit that after watching Stern on last nights show, I was pleasantly surprised by his demeanor. He was not nearly as vulgar or crass as Id feared, and if that is how hes going to behave for the rest of the season, I think that the show will do just fine. My worry is how its going to look for NBC if he slips and gets into trouble. Im sure that they put Stern on the show to amp up ratings, since everyone and their brother is going to want to see what comes out of his mouth next. I just hope the decision doesnt come back to bite [NBC].
Howard Stern is a radio personality who is best known for his controversial and outspoken behavior. He was the main personality of The Howard Stern Show on the radio for nearly two decades, and was labeled a shock jock due to his unexpected and oftentimes lewd and crude conduct. Some of his most well-known offenses include dressing up as Fartman, a revealing Spandex superhero costume, at the 1992 MTV Video Music Awards and simulating a smoky release of gas onstage; mocking Spanish peoples taste in music in a fake Hispanic accent and playing gunshots over one of Selenas song after the famous singers death in 1995; and an incredibly graphic and vulgar discussion with Rick Salomon, Paris Hiltons co-star in the infamous sex tape, about their sexual escapades. Stern moved to Sirius Satellite Radio in 2004, where there are no regulations imposed by the Federal Communications Commission.
About RoadFish.com
RoadFish.com is an online men's lifestyle and finance magazine targeted toward men in their 30's and 40's that have already attained a moderate level of success in life, and are striving toward more. It goes over current events of interest to this group, such things as exciting adventures, consumer interests, and NBA Playoff news as well as ways to make more and save more money. It is a publication owned by Purpose Inc.
Related Graphic Press Releases