His Holiness Paramahamsa Nithyananda Initiates 354 Disciples into Nirahaara Samyama To Consciously Generate Energy Without External Food Intake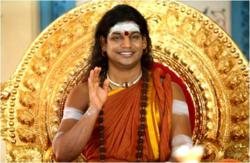 Los Angeles, CA (PRWEB) June 23, 2012
Madurai Aadheenam, Friday 22nd June 2012: His Holiness Paramahamsa Nithyananda initiated 354 disciples into niraahaara samyama (hunger free samyama), during the worldwide daily satsang (discourse on vedic science) watched by thousands from more than 30 countries across the globe via 2 way live streaming and on Nithyananda TV.
Niraahaara samyama means helping human beings to explore and discover their possibility to be without any external input like food and water. He said, First thing I want you to know, you cannot control your food and water intake through will.
Paramahamsa Nithyananda, said, Nirahaara samyama cannot be achieved by fasting or starving or depriving the body of energy. It is completely different. It is awakening our bodys capability to produce food and energy from sun rays, prana and ether. We had this natural intelligence to create food directly from sun rays and ether. Only by awakening of this bio-memory it is possible to achieve nirahaara samyama. If bio-memory is awakened, we don't need will, just like that we will feel highly energetic feeling excited for no reason.
Paramahamsa Nithyananda explained the science by saying, As per the vedic science, the human body is a miniature cosmos with all the possibilities in it. If a fish can swim, humans can swim, if a bird can fly, humans can fly. If plants and trees can create food from sunrays and ether, then human beings can also create energy without external food. Nirahaara samyama is meant to help each one to explore and rediscover the extraordinary possibilities and power of ones consciousness. An enlightened Masters initiation is an invitation to rediscover each ones possibilities
He said, We develop deep mental patterns by associating our fear, greed & idea of love with food. If someone gives one square meal, we feel oh this person loves me. In many cultures food equals love & love equals food. In Indian culture if it is sharing joyful or suffering situations, due to celebration or death or loss, food is directly associated with love. All patterns of love and attention need are connected with food.
Paramahamsa Nithyananda said, even in our ordinary life, if we try to control our food pattern by starving or fasting, instead of controlling our food pattern, we will create one more pattern, which is controlling food by will and it has nothing to do with nirahaara samyama.
He said, Food is a very emotional zone, so the first thing that will happen is all the unnecessary patterns associated with food will break. All the hangover patterns related to food from external source will not be there. The power of this nirahaara samyama, once awakened is so strong, that a kind of reasonless joy and excitement will start happening.
The initiated disciples were instructed not to use their will power to control hunger or thirst, because the purpose of this initiation is to awaken ones own possibility to make food and energy from surya (sun) and prana.
Paramahamsa Nithyananda said, if anyone gets the feeling to eat they should eat and discontinue the nirahaara samyama. This samyama was not aimed to save food cost. This is aiming at breaking many food patterns associated with food. Many of the emotional patterns with which one suffers are broken and they are liberated. Many of the emotional patterns associated with fear, greed, attention need, which are all associated with food will break.
This nirahaara samyama will be practiced by the disciples worldwide in the intervals of 2 days, 7 days and 21 days.
Live Streaming of His Holiness Paramahamsa Nithyanandas talks are available on Nithyananda TV at http://nithyananda.tv/.
More information on Paramahamsas revelations on Kundalini Awakening and the scientific research can be found at http://innerawakening.org/researchonkundaliniawakening
Contact:The Life Bliss Foundation

1- 909 – 625 -1400 / info(at)lifebliss(dot)org
ABOUT HIS HOLINESS PARAMAHAMSA NITHYANANDA:

Videos on Enlightenment Science:

http://www.youtube.com/watch?v=ty1DtDKt-08&feature=plcp

Inner Awakening videos

http://www.youtube.com/playlist?list=PLD5E80C03E360B2F8&feature=plpp
Paramahamsa Nithyananda is not only one of the most watched Spiritual Guru on YouTube, he is ranked as one of the worlds 100 most spiritually influential personalities. He has recently inherited the worlds oldest and most ancient Hindu Spiritual Organization the Madurai Aadheenam, by being coronated as the 293rd pontiff of Madurai Aadheenam.
Paramahamsa Nithyananda is a global leader in yoga, meditation, kundalini awakening enlightenment science. Clear, dynamic and modern in approach, Nithyanandas teachings have already transformed 15 million followers in 150 countries with the fastest growing spiritual community around the youngest incarnation.
Paramahamsa Nithyananda remains always grateful to the spiritual masters and the rich spiritual heritage of India which made it possible for him to learn and practice these timeless spiritual truths. Wishing to share his spiritual understanding with others and dedicate his life to the service of humanity, he entered into the public life and set up his spiritual organization, to reveal to the world, the science and benefits of our ancient mystical yogic tradition and disciplines.
Paramahamsa Nithyananda has made an indelible mark on the international spiritual scene, attracting educated and committed followers with his engaging way of demystifying the Vedic truths and re-interpreting them in the light of modern living. His down to earth approach to spirituality and his image of a tech-friendly guru, who illustrates the truths of Vedanta using a laptop, and uses modern analogies to instill Vedic values has found him admirers amongst the educated youngsters and their parents alike.
Find More Tech Press Releases