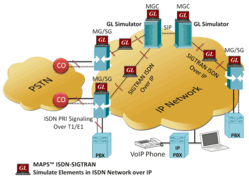 Gaithersburg, Maryland (PRWEB) May 25, 2012
GL Communications Inc. a leader in providing PC-based test, analysis and simulation products and consulting services to the worldwide telecommunications industry, conveyed today the availability of its product MAPS SIGTRAN ISDN Over IP Scripted SIGTRAN (ISDN over IP) Protocol Emulation.
Speaking to media persons, Mr. Jagdish Vadalia Senior Manager said, "GLs MAPS SIGTRAN (ISDN over IP) is an advanced protocol simulator/tester used for ISDN simulation over IP. The tester can simulate a complete ISDN connection SG to MGC, where ISDN signaling is defined by the ITU-T Q.921 / Q.931 standards. It is a powerful tool that can be used to perform detailed testing of ISDN protocol messages over IP, and offers a complete solution for testing, troubleshooting, and maintenance of devices and networks implementing PRI ISDN."
He added, MAPS SIGTRAN (ISDN over IP) also incorporates the flexibility to modify ISDN call parameters & message contents (arbitrary manipulation of messages, information elements and message sequence on the different protocols). This flexibility ensures that the MAPS SIGTRAN (ISDN over IP) communicates with the system under test.
Mr. Vadalia further added, MAPS SIGTRAN (ISDN over IP) supports powerful utilities like Message Editor and Script Editor which allows creating new scenarios or modifying the existing scenarios using ISDN messages and parameters.
Important Features: