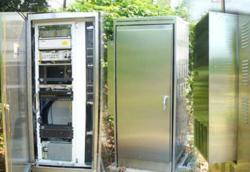 Gaithersburg, Maryland (PRWEB) July 26, 2012
GL Communications Inc. a leader in providing PC-based test, analysis and simulation products and consulting services to the worldwide telecommunications industry, conveyed today its expertise in designing Climate Controlled Outdoor Cabinets for communications Systems.
Speaking to the press, Mr. Vijay Kulkarni, CEO of the company said, Climate controlled outdoor equipment cabinets play an important role in insuring reliable and quality communications links. Outdoor cabinets that house today's modern communications systems are very different from their earlier versions. Present-day cabinets are home to a number of state-of-the-art electronic systems and components used for public communications, intelligent transportation systems, CCTV surveillance, and other equipment related to homeland security for transit and public safety requirements.
He added, The electronic systems include computers and servers consisting of microprocessors, fiber optic devices, Ethernet routers and switches, uninterrupted power supply units, and other semiconductor components. They are very susceptible to high temperatures and high humidity. Overheating and condensation would shorten their life expectancies and cause major failures. Hence, they require an environment controlled for heat and humidity for proper functioning.
Mr. Kulkarni further added, Two basic technologies are available for cooling an outdoor cabinet, a passive 'heat exchanger', or active (Freon-compressor type) air conditioning. This is apart from the traditional fan or blowers used in some cases. A passive heat exchanger consists of a fluid-filled 'heat pipe' assembly. Typically, passive heat exchanger units are only good for very minor cooling tasks (around 600 BTU or less) with very little heat producing equipment inside the cabinet, and in very moderate climates. Even with minimal equipment installed in a cabinet, a 600 BTU 'heat exchanger' would not come close to cooling adequately when outside temperatures reach 80