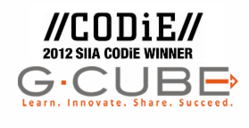 (PRWEB) June 18, 2012
G-Cube announced that it has won the CODiE Award 2012 in Best Corporate Learning/ Workforce Development Solution category. The annual CODiE Awards are presented by Software and Information Industry Association (SIIA) to recognize and honor leading achievements in the software & IT industry.
G-Cube has been conferred this award for designing an e-Learning based Employee Induction Course for new recruits of DBS Banks India Operations.
The course is based on a travel theme and is driven by a mentor. The journey begins by issuing a boarding pass to the learner and starts from banks' global branches to the branches within India and further to the corporate HO and eventually concluding at the office desk allocated to the learner. During the journey, it talks about organization values, growth data, multiple setups, internal systems, and policies that govern the bank culture. The solution used 3D visuals and rich multimedia elements to effectively introduce the organization to the new hires without the presence of an instructor. To maintain the interest of the learners, the text was kept to the minimum; instead, maze-games, quizzes and souvenirs were suitably added at relevant places.
Manish Gupta, CEO of G-Cube said, Our team is excited to receive the highly coveted CODiE Award 2012. It is a great honour that our work has been recognized & appreciated not only by our client but also by leading industry bodies like Software and Information Industry Association (SIIA). This award reiterates our leadership position in developing e-Learning solutions for large corporate.
Click here to view the Award Listing on SIIA website.
To know more about this solution and award, please contact us by clicking here or email to info@gc-solutions.net.
About G-Cube
G-Cube is a CMMi Level 3 e-Learning products and services company with a global delivery and support footprint. Having helped hundreds of our customers across diverse domains over the last decade, today, G-Cube has gathered the right mix of experience and expertise to provide solutions that are not only tailor-made and company-specific rather than industry-specific, but are also flexible to meet the evolving needs of our customers.
G-Cubes product portfolio includes the cutting edge WiZDOM Learning Suite, which comprises LMS, Virtual Class Room, Content Authoring Tool, Assessment Engine, Skill Gap and ILT management systems. Our content services include designing and developing custom e-courses, mobile learning, content localization, game-based learning, simulations, and consulting for curriculum design.
With its focus on innovation and WoWing the customer, G-Cube has won various industry awards, such as Deloitte Tech Fast 50 India Award for the last three consecutive years, multiple Brandon Hall Awards for Excellence in Learning and Technology, NASSCOM Emerge 50 Award, and Apex Award for Publishing Excellence.