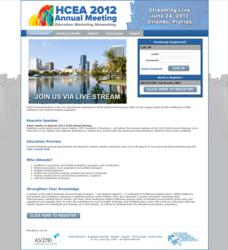 Jamestown, NY (PRWEB) June 21, 2012
Custom publisher Ascend Integrated Media is pleased to announce a new technology offering - AscendStreaming, live streaming video - which it will debut at the 2012 HCEA Annual Meeting, June 23-26, in Orlando, FL. To Register to watch the stream for free, go to http://prolibraries.com/hcea/registration.
Ascend Integrated Media (http://www.ascendmedia.com), in partnership with Digitell, Inc. (http://www.digitellinc.com), will stream the Opening Keynote Address by James Spellos, CMP, president of Meeting U, as well as two afternoon general sessions. All three sessions also will be streamed live from the HCEA website (http://www.hcea.org) and will be available OnDemand for attendees' later viewing.
"There is so much valuable content at each of our clients' events. This is another way that we help them share it with their membership," said Rhonda Wickham, Ascend Media's vice president of content. "If members are unable to attend an event, they can still benefit from the streamed presentations as if they were sitting in the room with their colleagues. They can view it live or see it at a later, more convenient time through the OnDemand version."
Videostreaming helps associations drive attendance, reach new members, extend the value of the event's content and develop new revenue streams for their meetings.
Addtional benefits of AscendStreaming include: