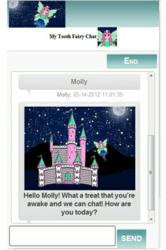 Portland, OR (PRWEB) May 18, 2012
contentAI studios (http://contentAI.com) have released a new childrens mobile application, "My Tooth Fairy Chat" as a year-round companion app to their "My Santa Talk" mobile, tablet and desktop app.
My Tooth Fairy Chat is a magical interactive chat and story with a virtual Tooth Fairy.
The initial release is a native Android app found on GOOGLE PLAY: https://play.google.com/store/apps/details?id=contentai.toothfairy&feature. Pending releases are on Amazons App Store, Kindle Fire and INTELs AppUp Windows Desktop App platform.
CONVERSATIONAL MOBILE MARKETING, ENTERTAINMENT AND MOBILE LEARNING
MY TOOTH FAIRY CHAT, features an enhanced mobile and tablet User Interface (Version 1.2) inclusive of HTML5 audio coupled with interactive conversational writing, as a new form of interactive fiction.
contentAI studios produce conversational mobile applications for mobile marketing, entertainment and mLearning. The company designed the platform in anticipation of the need for so-called 2nd Screen Applications that extend television content, story and characters, to interactive mobile devices.
Cofounder, Eric Weymueller, describes the future of conversational writing for 2nd Screen applications as: The contentAI platform was conceived as a method of extending stories from motion picture and television screens down to smaller, mobile interactive screens. The ability to engage in a personalized, one-to-one conversation with a virtualized version of on screen characters is rich with character and story possibilities.
The MY TOOTH FAIRY CHAT app is graphically rich, coupled with a personalized interactive narrative. The application is child safe and friendly (no personal data is acquired in the engagement and child-safe filters are applied to all responses).
Weymueller continues, Two-way, real-time communication on mobile devices with virtual characters and virtual brand agents will span applications from intelligent packaging, to interactive fiction, to mobile learning. Our analytics show users engaging for up to 32 minutes in chats with virtual characters People are delighted by them. The concept of chatting with any number of television characters to discover hidden stories, clues or prizes engages the Audience on an emotional level.. The potential of our platform to create 2nd screen apps fascinates us.
The apps released to date by contentAI include the conversational mobile English as a Second Language conversational learning apps through eslAI.com, accessed by users in over 50 countries per month.
contentAI studios, eslAI.com are imprints of zyntroPICS Inc., a privately held Company based in Portland, Oregon. zyntroPICS Inc. are engaged in the development of mobile technologies with a focus on interactive, multi-screen story-driven content.