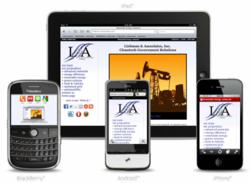 Washington, DC (PRWEB) July 19, 2012
From their offices in Washington DC, the cleantech government relations firm of Liebman & Associates (L&A) helps U.S. corporations partner with the federal government to fund and develop alternative fuels and clean, green, renewable and sustainable energy technologies. And from their recently launched mobile friendly Web 3.0 website Liebman-Associates.com, they'll be sharing their compelling message with a greatly expanded Internet audience.
Liebman & Associates is a Cleantech lobbyist whose diverse clientele have secured nearly one billion dollars from the federal government since 2009. In June 2012 alone, L&A clients received five competitive awards from the U.S. Department of Energy, including solar and advanced manufacturing technologies. These awards represent about 20 million dollars of public/private investment. L&A's technical and government teams serve as strategic brokers ensuring that projects including energy efficiency, renewable energy, energy storage, and smart grid technologies are realized. L&A's founder and president Murray Liebman noted that "Over the past four years the economy has been challenging and funding for RD&D activities has been hard to find, but the federal government is an ideal strategic partner. The government invests billions of dollars annually in Cleantech RD&D, and federal funding reduces project costs by 50% to 80%."
L&A's clients range in size from venture capital funded technology developers to Fortune 100 energy users, and going forward they'll be leveraging a potent combination of Web 3.0 visibility and Mobile Web accessibility to both serve and expand their base. Designed, developed and optimized respectively by Bruce Arnold's Miami web design teams at WebReDesignMiami.com, Web3.0DesignMiami.com and PervasivePersuasion.com, the renewable energy lobbyist's website Liebman-Associates.com was totally re-engineered via custom handcoded PHP/MySQL and Unobtrusive Javascript. The now tableless HTML5/CSS3 source of every web page on the site passes seven tests of Web 3.0 readiness, including not only basic tests of W3C standards compliance as to content and format but also behavior, accessibility, semantics, syndication and links. This assures optimal search visibility as well as accessibility across a broad spectrum of desktop, laptop, notebook, tablet and smartphone browsers including FireFox, Chrome, Safari, Internet Explorer, Opera and Opera Mobile.
The home page of Liebman-Associates.com features their signature cleantech energy video transcoded into FLV, OGG and MP4 formats for embedded presentation using Bruce Arnold's own VA4Most.js(tm) HTML5 video/audio with flash fallback utility which assures accessibility by Flash-free smartphones and tablet computers such as Android and iPad, newer web browsers that support the HTML5 video tag, and even older browsers that don't.
For Web-enabled but not-so-smart cellphones - or roughly 75% of the Mobile Web marketplace (youtu.be/lx4NoT03Yi0) - the website sports a W3C mobileOK minipage accessible directly via "liebman-associates.com/mobi" using microbrowsers like OpenWave. Custom jQuery routines provide page load and image hover animations, an integrated DDR (device description repository) is used to manage content presentation for mobile and other user agents, and embedded resources facilitate social media "buzz" creation.
The launch of this mobile friendly Web 3.0 site marks the third time L&A has relied on the web design and development resources and expertise of Bruce Arnold to enhance their web presence and expand their online reach. As clean energy advocate Murray Liebman attested, "Bruce Arnold has been our web developer for several years and has helped our web presence to grow. With this latest update, all of our web page source is W3C validated HTML5 and CSS3 so our web content is almost universally accessible via mobile phones, tablets or standard browsers."
About Liebman & Associates (Liebman-Associates.com)
For over 15 years Liebman & Associates (L&A) has focused exclusively on cleantech energy lobbying and government relations. L&A has helped enterprises large and small secure about one billion dollars from the federal government supporting clean energy projects and a broad portfolio of green technologies spanning the areas of energy efficiency, renewable energy, alternative fuels and vehicles, electricity reliability and power systems. Dare to ask, "What if..."
About Web3.0DesignMiami.com and WebReDesignMiami.com
Miami web designer and Mobile Web Apps developer Bruce Arnold's WebReDesignMiami.com (miamiwebdesigner.mobi) and Web3.0DesignMiami.com (webdesignermiami.mobi) form a Semantic Web design and Web 3.0 front-end development boutique that defines success on the Web as high visibility plus broad accessibility. Maximum ROI is assured by a proven proprietary PervasivePersuasion.com (miamiwebdesign.mobi) methodology that encompasses both search marketing and social media.