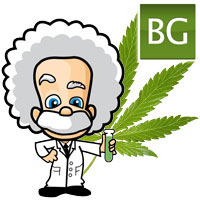 Los Angeles, Ca (PRWEB) June 06, 2012
BG Medical Technologies, Inc. (OTC: RIGH) medical marijuana testing laboratory, BudGenius.com, has entered into an exclusive arrangement with new Richmond dispensary, Holistic Healing Collective, to test all offered medications for potency and patient safety. While BudGenius has served northern Californias farming community since establishing operations in 2010, this marks the first northern California dispensary relationship with a firm commitment to test the entirety of their medical cannabis catalog, including various flowers and concentrates.
BudGenius is currently interviewing potential staff members with the anticipation of opening a satellite office in the San Francisco Bay Area later this year. Following the establishment of full services to all major California regions, BudGenius is considering 2012 expansions to Colorado, Washington, and regions of Canada. The Los Angeles metropolitan area represents the largest density of marijuana dispensaries nationwide. The San Francisco Bay Area is the nations second largest state-legal medical marijuana market.
Holistic Healing Collective is a cannabis dispensary focused on personalized patient care, and has selected their medicinal catalog to service the widest variety of patient ailments. HHC has taken care to choose the highest quality medicine available, which consists of several farmers utilizing BudGenius services, as well as the world-famous High Times Cannabis Cup winning plant genetics by Ken Estes Mediceuticals, including popular strains Grand Daddy Purp, Bay 11, and Kens Kush. Grand Daddy Purp is well known for its pain relief qualities having been reported especially effective for arthritis and limb disabilities, while allowing patients to maintain focus and clarity.
HHC has shown tremendous dedication to their patient base by choosing to test their full catalog of medicine with a reputable cannabis laboratory, adds BudGenius CEO, Angel Stanz. While many dispensaries only test their top 5 to 8 strains, HHC has chosen to join the upper echelon of California dispensaries that demand the highest quality services for patient care. BudGenius is proud to have been selected by their discerning caregivers, and is honored to be assisting their actions in serving their local community.
About BG Medical Technologies

BG Medical Technologies develops ancillary support services for medical cannabis patients and professionals, including its flagship medical marijuana research laboratory and website portal, BudGenius.com. BG Medical Technologies, Inc. currently trades under the symbol OTC:RIGH. Symbol and name change pending.

http://www.BgMedTech.com

http://www.BudGenius.com
BG Medical Technologies and its companies do not sell, grow, harvest, cultivate, nor distribute medical cannabis.
About Holistic Healing Collective

Holistic Healing Collective is located in Richmond California, in the East Bay area outside of San Francisco. HHC is the exclusive carrier of Ken Estes Mediceuticals cannabis strains for the East Bay region.
The foregoing press announcement contains forward-