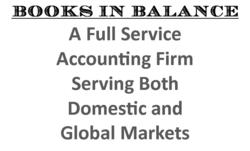 San Francisco, CA (PRWEB) July 03, 2012
Managing partner of Books In Balance says, "Clients are always looking for new ways to share data with our San Francisco headquarters that help them avoid e-mails and the usual PDF attachments, snail mail and faxes when needing to get critical documents in to be processed. So offering 'Shoeboxed' made perfect sense."
As an alternative to Books In Balance clients already using the popular 'Dropbox' which allows any file you save to Dropbox also instantly available on your computers and phones. Books In Balance President, David Flores says, "Shoeboxed was also implemented to further help clients eliminate the paper clutter and hassles in sending records, making a fast way to turn a pile of receipts into digital data for expense reporting, accounting and tax preparation. Allowing immediate access for timely processing."
Some of the benefits of Shoeboxed, as reported by Founder and CEO, Taylor Mingos,
" No more scanning or data entry Youll never waste another minute in front of a scanner or in an Excel spreadsheet Maximize every reimbursement Whether its a business trip or federal tax filing, every receipt is always at your fingertips Submit from anywhere Send documents in the mail, with your phone, via e-mail or right from your scanner or web browser Export everywhere Export to QuickBooks, Wave Accounting, Xero, Outright, FreshBooks, Evernote, Excel and many more Your data is safe and secure Shoeboxed uses 256-bit SSL security, the same as major US banks"
Flores adds, "A very valuable feature for accounting firms preparing legal and tax documents, Shoeboxed preserves an IRS-accepted image of each document. This is extremely important when providing services for clients and sustaining acceptable audit practices."
Books in Balance is based in San Francisco, CA and provides over 35 years of combined experience in accounting, bookkeeping, taxation and business management working extensively with the small to mid-size businesses and entrepreneurs to help them maintain good financial data every step of the way.
More information is available at http://www.booksinbalance.net or calling (415) 979-0706.
Related Computer Press Releases