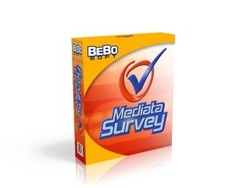 Plantation, FL (PRWEB) November 5, 2008
Bebosoft, Inc. is proud to announce Mediata Survey, an update to their professional level, web survey application for Mac OS X, Windows and Linux. With a focus on ease-of-use, Mediata Survey was developed specifically to create and analyze web-based surveys. Create slick, professional, multipage surveys for market research or any other activity that could benefit from more user input without any programming knowledge to implement them.
Without programming knowledge, users may assemble surveys with a variety of different questions and answers. Surveys are created in PHP and results may be saved in either a MySQL or PostgreSQL database. The application can accept and create multiple question types, including open response, single and multiple response, as well as evaluation or matrix type questions.
Among Mediata Survey's most unique features is its ability to support rules for the creation of dynamic surveys based on survey responses. Users may analyze survey results with multicolor charts and tables, as well as create filters for extended analysis and export survey data to their favorite analysis software.
Users can save time, production costs, and resources by allowing them to host their own php surveys on any web server they wish, whether the internet, or a local intranet. This makes Mediata Survey particularly suited for marketing, employment screening, store kiosks, customer service, product feedback, or any situation where user-context feedback is required.
Version 2.0.8 is a maintenance release including many bug fixes and enhanced functionality. Feature highlights include:


Multiple pages per survey
Multiple questions per page
Multiple surveys for multiple domains
Open questions with text fields
Closed questions such as simple or multiple choice
Evaluation or matrix questions
Set different conditions, rules, and options based on answers
Store survey results in a MySQL or PostgreSQL database
Limit user participation
Invite specific users to take the survey
Limit survey validity by a date range
Customize HTML survey templates
Validate current answers
Analyze survey results with graphics
Show users' answers in detail
Exports the survey responses to CSV/TXT or HTML format
Minimum Requirements:

Mac OS X Version 10.3 and later
Universal Binary for PowerPC and Intel
Windows XP and Vista
46.6 MB Hard Drive space
512 MB of RAM are required and 100 MB of hard disk space
PHP 4.1.0 or higher
Windows, Unix/Linux, MacOS X or any other operating system with PHP
MySQL 3.23.x or higher, PostgreSQL 7.x or higher
Internet Connection
Pricing and Availability:

Mediata Survey 2.0.8 is only $ 99.00 (USD). A fully functional demo is available. The only limitation is that Mediata Survey won't be able to retrieve and analyze more than 10 survey results if the software is not registered. Bebosoft believes in a Try Before You Buy policy, and offers a free trial for anyone looking to experience a sample of what Mediata Survey can do. See first hand some of Mediata Survey's features before purchasing and unlocking the other dynamic features.
###