Vocabulary Builder, Ultimate Vocabulary, Announces New Printable Worksheets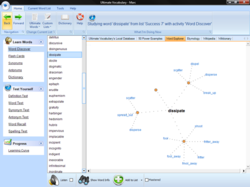 New York City, NY (PRWEB) June 03, 2012
Following its recent 2012 upgrade, game-changing vocabulary software, Ultimate Vocabulary, today announces new printable worksheets.
The culmination of three years of research and development has recently seen a huge upgrade to the system and its available features. The new worksheets were designed to allow users to continue their training while away from the software.
Thousands of printable resources are now available, from word lists to flashcards, with everything fully customizable says Marc Slater, Managing Director of the company behind Ultimate Vocabulary.
We even have teachers printing them out and handing them among an entire class of students he adds.
Every resource is fully integrated within each users custom word lists. This is allowing users to place a focus on the words and areas of improvement that matter to them, rather than forcing people to re-learn things they already know.
Families are also using the worksheets. We get a lot of great feedback from parents who print them off at the weekends so that their whole family can have fun with them together, Slater explains.
The Ultimate Vocabulary 2012 upgrade also brings a myriad of other exciting new features such as intuitive progress tracking and Word Messenger, which sits silently on a users computer and allows them to continue with what they were doing. Then, periodically, words from their lists pop up to act as a conscious reminder.
The new upgrade is proving very popular among individuals and groups.

In fact, to celebrate the launch, Ultimate Vocabulary is offering the entire downloadable platform for a heavily discounted price.
For more information, please click here to visit the official Ultimate Vocabulary website.

For a direct link, please visit: http://www.ultimatevocabulary.com
******

About Ultimate Vocabulary
Ultimate Vocabulary provides a proven and powerful platform, built to improve anyones vocabulary.
The interactive self-improvement system provides more learning tools than any other program on the market, as well as more information on words.
The Ultimate Vocabulary software provides each and every user with a personal computer tutor. Providing a step-by-step guide to learning a powerful vocabulary, Ultimate Vocabulary is the learning tool everyone can benefit from.
Of course, the software is also backed by eReflects iron-clad money back guarantee.