TOD Smart Beacons To Integrate With Popular Pebble Watch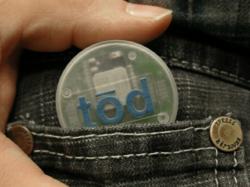 Lehi, Utah (PRWEB) May 22, 2012
After a record-setting Pebble Watch Kickstarter funding project, its clear that the future of connected mobile devices is here. As of May 18, the Pebble Watch has earned $ 10,266,845, earning a place in the Kickstarter Hall of Fame.
Products are being developed to keep up and companies are now shifting focus to stay current with the trends. One product that recently reached its funding goal on Kickstarter however, is making its way into the industry with some steam.
Enter TOD, a Pebble Watch compatible device that utilizes the most recent Bluetooth technology, BT 4.0, to give the user a proximity based experience. Pebble Watch is compatible with both Bluetooth 2.1 and 4.0 mobile devices, giving the TOD a reverse compatibility with the newest high-tech wrist accessory. TOD, when launched to the public in October, will have a mobile application written to link the two together, bringing proximity interactions and a Bluetooth 4 Accessory foundation to the Pebble.
At about a quarter the cost of the Pebble Watch, TOD is a diverse accessory that brings the user closer to the world around them. For the 85,000 Pebblers, getting a notification when their bag has reached the baggage claim, or a notification when their child leaves an adjustable safety perimeter are just two of the ways the TOD accessory could broaden the use of the Pebble Watch.
TOD is an incredibly dynamic proximity-based mobile accessory and we are excited to see the Pebble Watch take off, TOD VP Marketing and Sales Don Mallicoat said. Being that TOD is so interactive with things like the Pebble Watch, shows us we are on the right track with what consumers want.
These two devices have made impressive strides in the high-tech industry over the past few months. The possibilities will likely continue to surface between the two and between now and October, developers will be hard at work seeking to uncover them.
The team at Rowdy Robot is also investigating other previous Kickstarter Projects, for example the Ninja Cloud, that present an opportunity to integrate with as well. The team is also evaluating Internet of Things platforms, such as Sen.se and Presence, for opportunities that add value to the TOD customers and platform.
About Rowdy Robot
Rowdy Robot is developing TOD as affordable and expandable technology to connect consumers to their favorite places, things and actions using the companys innovative devices and software paired with Bluetooth 4.0 enabled devices. The Lehi, Utah based company was officially founded in 2012 after several years of research and development. For more information about TOD, visit http://todhq.com.