The 5th Annual World Science Festival: Premiere U.S. Science Event Announces 2012 Programming Line-Up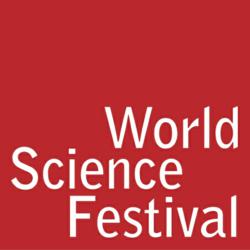 New York, NY (PRWEB) May 14, 2012
The 2012 World Science Festival (http://www.worldsciencefestival.com) today announced an impressive line-up of cutting-edge science programs for its fifth anniversary season, May 30th to June 3rd, 2012 with more than 50 events designed to make the esoteric understandable and the familiar fascinating.
The Festival brings together many of the worlds leading scientific minds along with renowned artists and influential thinkers to illuminate science in novel and exciting ways, breaking down barriers and connecting leading scientists to a broader public.
The five-day festival celebrates science through a wide range of original programming including discourse and debate, the arts, exhibitions, and free events designed for young scientists and their families.
Since its inception, the annual Festival has welcomed more than 600,000 people to 200 programs in locations throughout New York City. It is the nations most anticipated science event and allows everyone kids and adults, novice and enthusiast to experience science in unique and thrilling ways. Highlights of the 2012 Festival include:
The stunning, full orchestral work with animated film and narrator, Icarus at the Edge of Time, which opens the Festival on May 30th at the United Palace Theatre.
Two daylong, free admittance, family-friendly immersive events for budding scientists: Science-On-Site: Explorations in Brooklyn Bridge Park on June 2nd which culminates with an evening of stargazing, and The Ultimate Science Street Fair in Washington Square Park on June 3rd a jam packed, wall-to-wall science extravaganza.
Innovation Square, a new Festival initiative that creates a daylong tech fest in downtown Brooklyn, celebrates innovation by transforming NYU Polys MetroTech outdoor quad into a technophiles playground, teeming with innovations from all over the world.
The World Science Festival was co-founded in 2008 by Brian Greene, Columbia University professor of physics and mathematics and bestselling author of The Elegant Universe and The Hidden Reality, and Tracy Day, Emmy Award-winning journalist and television producer.
SCHEDULE of EVENTS

2012 World Science Festival public events are outlined below, in chronological order. Tickets are on sale now at http://www.worldsciencefestival.com . The site offers complete information about the Festivals program schedule and sign-up for email alerts about new programs, special guests and programming updates.
TUESDAY, MAY 29, 2012
2012 World Science Festival Opening Night Gala Celebration

7:30 p.m., The Allen Room, Frederick P. Rose Hall, Jazz at Lincoln Center
Details of the 2012 Opening Night Gala Celebration will be announced separately.
WEDNESDAY, MAY 30, 2012
Icarus at the Edge of Time

7:00 – 8:00 PM, United Palace Theatre; Ticketed
Icarus at the Edge of Time is the story of a courageous boy who challenges the awesome might of a black hole. This stunning, full-orchestral work with animated film and live narrator brings a powerful modern twist to a classic myth, taking audiences on a whirlwind voyage through space and time, to the very edge of understanding. Featuring an original orchestral score by Philip Glass, performed by the Orchestra of St. Lukes, conducted by Brad Lubman, film by Al + Al and narration written by Brian Greene and David Henry Hwang.
Participants: Al + Al (Artists), Philip Glass (Composer), Brian Greene (Physicist, Columbia University), David Henry Hwang (Playwright) with Brad Lubman (Conductor) and the Orchestra of St. Lukes.
THURSDAY, MAY 31, 2012
The 2012 Kavli Prizes

8:00 AM – 10:00 AM; NYU Global Center, Grand Hall; By Invitation Only
Winners of the 2012 prestigious $ 1 million Kavli Prizes will be announced live via satellite from the Norwegian Academy of Science and Letters in Oslo. On-site opening remarks will be given by John Holdren, director of the White House Office of Science and Technology Policy, followed by ABC News anchor Elizabeth Vargas and leading researchers exploring the next wave of opportunities in the Kavli prize areas: Astrophysics, Nanoscience and Neuroscience.
Participants: John Holdren (White House Office of Science and Technology), Angela Belcher (MIT), Thomas Jessell (Columbia University), Claire Max (University of California Santa Cruz). Moderator: Elizabeth Vargas (ABC News).
Cheers to Science! A Drinkable Feast of Beer, Biotechnology and Archaeology

Thu., May 31, 2012

Session One: 5:00 PM – 7:30 PM; Session Two: 7:30 PM 9:00 pm; La Scuola Grande & La Birreria at Eataly; Ticketed
Brewing beer might well be humankinds first biotechnology, representing our first attempt to harness the power of living organisms. Dating back as early as 9000 BC, the craft galvanized the cultivation of barley and wheat, transformed hunter-gatherers into farmers and fueled the building of monumental structures, such as the pyramids, whose workers received five liters of beer per day as compensation. What did those ancient brews taste like? How were they made? Advanced scientific tools and new archaeological finds offer up tantalizing cluesand tasty results. Join biomolecular archaeologist Patrick McGovern and pioneering brewmaster Sam Calagione as they explore ancient ales from around the world and retrace their journey to Italy to reconstruct an Etruscan fermented beverage circa 800 to 700 BC. This rare brew features an exotic combination of ingredients: hazelnuts, pomegranates, grapes, wild flower honey, frankincense, barley, wheat, and even a few hops. Following the talk and tasting, head up to Eatalys rooftop brewery, La Birreria, to sample a first-run batch of this prehistoric ale before fermentation. Its a sensational evening of artisanal snacks, Dogfish Head Ancient Ales and fascinating science.
Participants: Sam Calagione (Brewer), Patrick E. McGovern (Biomolecular Archaeology Laboratory for Cuisine, Fermented Beverages and Health at the University of Pennsylvania Museum).
Artist as Innovator: Visions of a Floating Metropolis

6:00 PM 7:30 PM; Metropolitan Museum of Art, Grace Rainey Rogers Auditorium; Ticketed
Great artists shape new realities by challenging conventional worldviews and pushing society to see possibility in unlikely places. That idea springs to life on top of the Metropolitan Art Museum, where Argentinian-born artist Tom