Swisstrax Floors 3rd Annual Greystone Mansion Concours d'Elegance with Flooring Tiles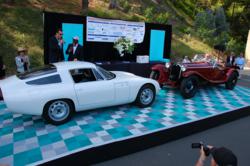 Beverly Hills, California (PRWEB) May 20, 2012
Many who attended the recently-concluded 2012 Greystone Mansion Concours dElegance in Beverly Hills agree that this has been the best installment yet and well worth the price of admission. With over 150 antique cars and motorcycles for showgoers to admire, the Greystone Concours, after only 3 years, is on its way to becoming one of the premiere events in the vintage car show circuit.
On hand to lend a distinctive look to the event was Swisstrax with its modular rental flooring tiles. As Autoweek put it, organizers covered up the white lines of the parking lot this year with nice (Swisstrax) flooring to make you forget that it was a parking lot–it worked; we forgot. The presence of Swisstrax at the Greystone Concours was a matter of course, as the companys excellent line of garage flooring tiles were a complement to the pricey, and priceless, vehicles on display. Swisstraxs regular presence with their event flooring at Pebble Beach, SEMA and the Barrett-Jackson auctions, to name a few events, is well-established.
Debuting at the Greystone mansion event was Swisstraxs BizBox mobile showroom. With it, Swisstrax aims to showcase its flooring tiles product as well as that of its partners in a high-tech, easy to set up platform. Just like the Swisstrax flooring tiles that covered the Greystone Mansion parking lot, the Swisstrax BizBox mobile showroom made you forget that it was a building on wheels with its high-tech features. Using the BizBox mobile showroom, Swisstrax has begun expanding its presence by attending more car shows, auto auctions and other auto events than was previously possible. Aside from its garage and event flooring products, the Swisstrax mobile showroom also offers products like Shelby art, office furniture, cabinets, ramps and other garage accessories.
Swisstraxs BizBox debut at the Greystone Concours lived up to the companys expectations, allowing it to focus on serving customers very quickly. Expect to see the Swisstrax BizBox at the Pismo Beach Classic show from June 15 to June 17.