Startup Rowdy Robot Brings The Internet of Things Closer To Reality With New Bluetooth Technology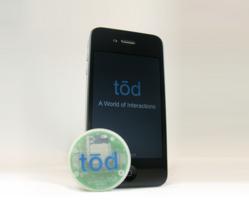 Lehi, Utah (PRWEB) May 14, 2012
The Internet of Things is getting closer to being an everyday reality, thanks to the team at Rowdy Robot.
Soon, consumers will be able to use the companys small rounded disksknown as a td Smart Beacon (pronounced toad)to connect real-world objects and events to the Internet and even offline using their smartphones and other mobile devices.
Using td Smart Beacons and their smartphones, consumers will be able to find their car in a crowded parking lot, know the exact whereabouts of their children or pets, create triggers and customized alerts when they are in range of their home, office or favorite storeand dozens of other practical applications.
Were bringing the power of the Internet of Things to consumers pockets and into the real world, even in places where there is no Internet access, said CEO Jonathan Prevo.
Td is asking tech enthusiasts to help the company accelerate its launch with a funding campaign on the popular crowd funding website Kickstarter. They have already reached 80% of their $ 50,000 funding goal, but expect to raise much more. The team at Rowdy Robot plans to ship the first devices in October 2012. Developers will have early beta access to the hardware in July.
The td Smart Beacons have already made popular technology news, with coverage on Mashable, Endgadget and Geeky Gadgets.