SpyTown.com Welcomes Grandmax Speakers and Mobile Accessories To Its Product Line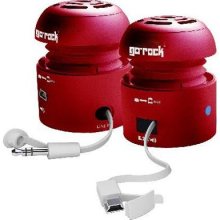 Melville, NY (PRWEB) May 15, 2012
The old adage less is more holds true for SpyTown.coms latest addition to its product line Grandmax single-pull cable products, ideal for iPhones, iPads, and computers. Grandmax is known for its ability to offer quality mobile accessory and speaker solutions featuring just a single cord – and in some instances, wifi-enabled accessories bearing no cord at all.
The SpyTown.com team spent several months analyzing the Grandmax brand before making the decision to add it to their product collection. The team examined Grandmaxs core audience teens and adults ages eighteen to thirty-four, and determined that their products would fit into SpyTown.coms niche of new homeowners and young business owners and decision makers seeking security solutions and tech accessories like those offered by Grandmax.
Our demographic here at Spy Town is shifting as more people are again broaching the real estate market and buying their first homes. With the economy as shaky as it is and home theft typically increasing each year, more new home owners are purchasing security equipment. We wanted to also have the tech accessories for them, and Grandmax provided us with the perfect product collection, explains Howard Geschwind, SpyTown.com Sales Director.
Grandmax products put an emphasis on innovation, portability, and affordability. With mobile technology on the rise, Grandmax single-pull cable products provide both efficient function and form. Browse Grandmax products, including Grandmax speakers, at SpyTown.com.
About SpyTown.com:
SpyTown.com , online since 1999, is one of the largest security cameras and security surveillance systems retailers. Located in Melville, NY, the company prides itself on its in-depth expertise of thousands of security cameras, and is happy to help home owners, businesses, and agencies discover the security solutions to fit their needs. Enjoy free ground shipping on orders over $ 500 by using the coupon code FREEGROUND at checkout. Learn more about SpyTown by visiting Blog.SpyTowne.com and following Twitter.com/SpyTownSecurity.