Social Media Is Not Just for Kids: Social Networking Has Almost Doubled among People Ages 50 and Older; Learn How to Do It with Visual Steps' "Social Media for Seniors"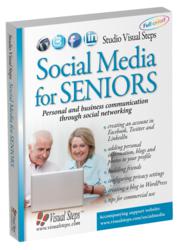 New York, NY (PRWEB) June 06, 2012
According to comScore, a digital measurement company, 27.4 million people age 55 and over engaged in social networking in July 2010, up from 16 million one year ago. The Pew Research Centers Internet & American Life Project, social networking has almost doubled among people ages 50 and older.
For millions of people, Facebook, Twitter, LinkedIn, WordPress and other social media websites have become an integral part of everyday life for both personal and commercial purposes.
You can hardly find a company, club, newspaper or television program that does not have its own page on Facebook or Twitter. For many celebrities, clubs and sports organizations, such a page has proved to be an indispensable form of communication.
Social media has also truly revolutionized how society communicates, how people interact and how information travels.
Using the unique Visual Steps teaching method, this easy-to-use book will acquaint the reader with Facebook, Twitter, LinkedIn and WordPress. Learn how to create an account, how to input key information, how to take advantage of each sites capabilities including creating messages incorporating hyperlinks, photos and videos. Also covered are the key steps to adding contacts, friends and building a social network for each respective media site. Understanding privacy settings and how to manage the flow and access to information is crucial in the world of social media. These issues and topics are fully addressed in this book.
Whether for personal or professional purposes, social media is an indispensable tool for staying in touch and building community. Understanding how to use social media effectively opens up major opportunities. Take advantage of all it has to offer and understand it with this comprehensive book.
SOCIAL MEDIA FOR SENIORS

Author: Studio Visual Steps

Number of pages: 224 pages

Book type: Paperback, full color

ISBN: 978-9059050181

Price: US $ 22.95 Canada $ 25.95

Support website: http://www.visualsteps.com/socialmedia
Topics covered in this book: