Snow Bros Ranks No. 1 in Global App Market Within One Week of Its Release Date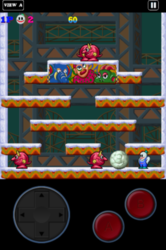 (PRWEB) April 30, 2012
ISAC Entertainment released Snow Bros Classic for smart phones on April 5th and has since ranked no. 1 in the action game category in Spain, Mexico, and Argentina for the first half of April. The mobile app game is showing a growth in popularity in other regions around the world, which has led to a limited time only discount price of $ 0.99.
ISAC Entertainment began offering the classic game, Snow Bros, through Apples AppStore and the Android Market (Google Player) on April 5th, after acquiring the license and remaking the game for smartphones and other app enabled devices.
Just one day after its release, Snow Bros ranked in the top 3 of all paid apps in Korea, and was no. 1 in action games in Europe and Latin American countries, such as Spain, Mexico, and Argentina, adding to its global popularity.
Snow Bros, originally released in 1990, was hugely popular. The main objective of the game is to rescue the kidnapped princess by turning enemies into snowballs a simple concept that has proven popular across all demographics.
The trick is to use snowballs in various ways to defeat the monsters and clear the stages. The remake to Snow Bros remains faithful to the original graphics, with the addition of sophisticated designs and colors, to evoke nostalgia from original players as well as immerse the current gamer in the game environment.
Snow Bros has achieved 40,000 downloads in just 4 days after its release. Currently, the app is on sale, down to $ 0.99 from $ 4.99, to celebrate its launch and surpassing 40,000 downloads. Snow Bros can be downloaded from the Apple Appstore as well as the Google Play Market.