snom Phones Now Interoperable with Schmooze Com, Inc. Unified Communications Systems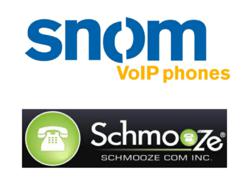 Woburn, Mass. and Neenah, Wis. (PRWEB) April 24, 2012
snom technology AG, a leading developer of IP desktop phones and IP communications solutions today announced interoperability with Schmooze Com, Inc.s PBXact phone system and PBXtended hosted PBX. snom VoIP phones can now be auto provisioned via the Schmooze Com Endpoint Manager for quick and easy installation and no-hassle management directly from the PBX Graphical User Interface (GUI). The following six snom models are currently certified for the Schmooze solution: snom 300, snom 320, snom 370, snom 821 and snom 870 desktop phones and the snom M9 wireless handset.
The combination of snom phones and PBXact and PBXtended systems gives small and medium-size businesses (SMBs) and call centers a complete, end-to-end voice solution. Value Added Resellers (VARs) will appreciate the seamless auto provisioning and implementation using the Endpoint Manager GUI tool. Schmooze customers can take advantage of the full range of snom 300 and 800 series desktop phones to meet any staff requirement, as well as the snom m9 wireless handset that allows mobile workers to stay in touch while away from their desks. Whether a business chooses the PBXact premises-based PBX system or the hosted version, PBXtended, they will enjoy the same snom endpoint functionality.
snom is committed to interoperability with a large number of SIP-based platforms and is pleased to have completed certification with Schmooze Coms premises-based and hosted solutions. The ease of deployment and auto provisioning via Schmoozes Endpoint Manager is a real plus for both VARs and end customers looking for a complete IP telephony deployment, said Mike Storella, snom technology Chief Operating Officer.
The PBXact business telephone system and PBXtended hosted PBX provide all the standard features of a traditional PBX plus a unique set of features for the modern workforce, including visual voicemail, custom IVR auto attendants, find-me-follow-me and convenient voice recognition capabilities that allow employees to access the company directory, check messages and perform call control using simple voice commands. snom phones have been specially engineered with Schmoozes magic button that has been programmed for voice commands and dialing. Users simply speak commands such as call Mary, transfer to Steve' or check messages rather than using the keypad and entering an extension number or code. For VARs, training is a breeze with no star codes or cheat sheets needed to remember the features.
snom offers a solid lineup of stylish, high performance desktop VoIP phones, and a cordless handset with great range and battery life compared to other handsets on the market. We worked with snom over several months, and the certification process went extremely smoothly. VARs will appreciate the seamless auto provisioning of the snom phones whether these phones are new to the customer or already installed at the customer location and simply need to be integrated with our PBXact or PBXtended solution, said TJ Stamm, VP of Sales and Marketing at Schmooze Com Inc.
The range of snom phones suit any business requirement. The entry-level snom 300 is a good fit for general office workers, while the 320 adds more line keys for office workers with high call volumes and the snom 370, with its large graphical, high-definition display, is ideal for business executives. The advanced snom 821 and 870 (touch-screen) feature a large, high-resolution color display, an integrated XML browser, wideband audio for enhanced audio quality and the built-in Gigabit Ethernet switch for the latest network installations. The snom M9 cordless IP DECT handset targets the mobile workforce, providing coverage of 50 meters indoors or 300 meters outdoors.
For more information about snom in the Americas, please visit us at http://www.snomchannel.com; follow us on Twitter; like us on Facebook; or join our LinkedIn group.
About snom

snom technology AG develops and manufactures VoIP telephones and related equipment based on the IETF open standard, SIP (Session Initiation Protocol). Recognized for its high-quality, customizable and cost-effective business solutions, snom is also differentiated by the companys history in the VoIP industry and its dedication to high security standards. All of snoms products, from desktop phones to IP PBXs, are designed to be fully interoperable with leading communications equipment vendors. snom customers benefit from the interoperability and flexibility that the snom telephones offer, including plug-and-play integration and universal compatibility with any SIP-based telephony platform. In September 2011, the snom 300 and the snom 821 were the first SIP phones which were officially tested and qualified as interoperable with Microsoft Lync by Microsoft.
Founded in 1996 and headquartered in Berlin, Germany, snom technology AG also has offices in Italy, France, the United Kingdom and the US. For more information on snom, please visit http://www.snom.com.
About Schmooze Com

Founded in 2008 by a core group of communications architects and VoIP experts, Schmooze Com has always had one goal, simplifying the corporate phone system. Our PBXact premise based PBX solution has gained industry wide recognition for its unprecedented feature set and usability. We also offer PBXtended, a Hosted PBX with the same great feature set. Schmooze Com is proud to power unified communications in all types of organizations from small businesses to call centers. We pride ourselves on constant innovation and relentless technical support of our products. For more information on Schmooze Com, please visit http://www.schmoozecom.com.