Scannx and OCLC Announce Partnership to enhance fulfillment of Interlibrary Loan Requests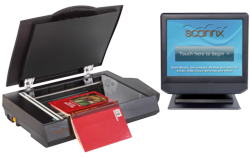 Pleasanton, CA (PRWEB) June 20, 2012
Scannx, a leading developer of cloud-based, document capture and document delivery software and services, announced today that it has developed a software connector for scanning from its book scanning systems to OCLCs Article Exchange document delivery site for completing interlibrary loan requests. Article Exchange is accessible from within WorldCat Resource Sharing and via an ILLiad add-on. Since its release in January 2012, nearly 600 libraries in 16 countries have used the tool, resulting in uploads of more than 20,000 documents each month. This cooperative development effort means that academic research and collaboration tools are getting faster, better and cheaper. Demonstrations will be held at the American Library Association conference on June 22-25 in Anaheim, CA in Scannx booth #727. Attendees who come by the booth for a demo can also register to win an iPad.
Scannx and OCLC are dedicated to furthering access to the worlds information while, at the same time, reducing library costs, said John C. Dexter, president and COO of Scannx. Scannx-powered book scanning systems are replacing the traditional and very expensive overhead book scanners and copiers. The joint effort will help accelerate academic research and collaboration while, at the same time, further promote Green-technology initiatives.
OCLC has grown into a worldwide organization in which over 25,000 libraries, archives and museums in 170 countries are members. Their shared cataloging service is among the busiest in the world, delivering access to more than 271 million items available from the WorldCat database. . Cooperative advances have expanded to help libraries better manage workflows, collection management, reference services, resource sharing and digital materials. New Web-scale services amplify library cooperation even further. OCLC has helped fulfill over 9.6 million interlibrary loan requests during the last year through its WorldCat Resource Sharing and ILLiad services.
The Article Exchange document-sharing site provides a single, secure location where lending libraries can place requested documents and library users can retrieve articles or book chapters obtained for them via interlibrary loan. This site adds convenience, security and enhanced copyright compliance to article sharing through interlibrary loan. Article Exchange is accessible from within the WorldCat Resource Sharing service. With the integration of Article Exchange into Scannx book scanning systems, library staff can more easily deliver documents to the people who need them in a secure, cloud-based environment.
ABOUT SCANNX

Scannx LLC designs, develops, markets, and supports innovative book and document scanning solutions for the educational and municipality markets under the Scannx and Xerox brands. Xerox Corporation and Scannx LLC entered into a trademark licensing agreement in November 2011 for Scannx to develop, market and support a new line of Xerox-branded self service book scanning systems. The Xerox BookCentre product line is powered by Scannx and includes its patent pending technology for scanning to smartphones and tablets. For more information on Xerox BookCentre systems, please visit http://www.xeroxbookcentre.com. For more information on Scannx, please visit http://www.scannx.com
About OCLC

Founded in 1967, OCLC is a nonprofit, membership, computer library service and research organization dedicated to the public purposes of furthering access to the worlds information and reducing library costs. More than 72,000 libraries in 170 countries have used OCLC services to locate, acquire, catalog, lend, preserve and manage library materials. Researchers, students, faculty, scholars, professional librarians and other information seekers use OCLC services to obtain bibliographic, abstract and full-text information when and where they need it. OCLC and its member libraries cooperatively produce and maintain WorldCat, the worlds largest online database for discovery of library resources. Search WorldCat on the Web at http://www.worldcat.org. For more information, visit http://www.oclc.org.
Scannx, Scannx Book ScanCenter and Scannx Cloud Services are trademarks of Scannx LLC in the United States and other countries. Scannx patent pending. All other trademarks are the property of their registered owners. Scannx LLC, Pleasanton, CA.