Redpoint Design Direction, a Custom Web Design Studio, Wins Award for Best Charitable Organizations/Non-Profit Website in the 16th Annual Webby Awards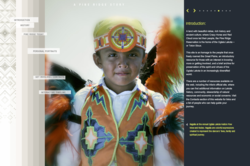 Midland, MI (PRWEB) May 11, 2012
Redpoint Design Direction, a custom web design studio based in Midland, MI, will be honored at the star-studded, live online broadcast of The Webby Awards from New York Citys Hammerstein Ballroom on MAY 21, 2012, at webbyawards.com at 5:30PM EST. Hailed as the Internets highest honor by The New York Times, The Webby Awards is the leading international award honoring excellence on the Internet, including websites, interactive advertising & media, online film & video, and mobile & apps. The 16th Annual Webby Awards received nearly 10,000 entries from all 50 states and over 60 countries worldwide.
The Webby Awards honors the very best of the Internet, said David-Michel Davies, Executive Director of the Webby Awards. Redpoint Designs achievement is a testament to the skill, ingenuity and vision of its creators.
"We are excited to receive this award because it affirms the quality of work we strive to produce for all of our clients, regardless of their business model, says co-owner Lynne Most. Our goal is to conceive and develop relevant target-specific design solutions using smart strategies that clearly communicate our clients message.
About The Pine Ridge Story

The Pine Ridge Story is an advocacy website for the Oglala Sioux Tribe of the Pine Ridge Indian Reservation in South Dakota. The site educates viewers in a concise pictorial format about the historical, social, health and economic challenges of the 3rd poorest county per capita in the United States, and directs them accordingly.
About Redpoint Design Direction, LLC

Redpoint Design Direction, LLC, is a graphic design and web development studio based in Midland, MI, with over 30 years experience in advertising and design. The companys expertise ranges from identity development to advertising and marketing to multi-media and web development.
About The Webby Awards

The Webby Awards is presented by the International Academy of Digital Arts and Sciences, a 750-person judging academy whose newest members include CEO of Skype, Tony Bates, shft.com co-founder Adrian Grenier, and co-founder of Instagram Kevin Systrom, as well as director Darren Aronofsky, Huffington Post Media Group President Arianna Huffington, Twitter co-founder Biz Stone, musician David Bowie, Internet co-creator Vint Cerf, Virgin Group Chairman Richard Branson, and R/GA Chairman and CEO Bob Greenberg. Sponsors and Partners of The Webby Awards include: AOL, Aquent, Yahoo!, Microsoft, Ford, Dentyne, Facebook, MLB Advanced Media, Rackspace Hosting, LBi, Buddy Media, YouTube, HP, USA Today, Business Insider, 2advanced.Net, PricewaterhouseCoopers, Time Out New York and Guardian News and Media.
Find More Graphic Press Releases